Jump to Recipe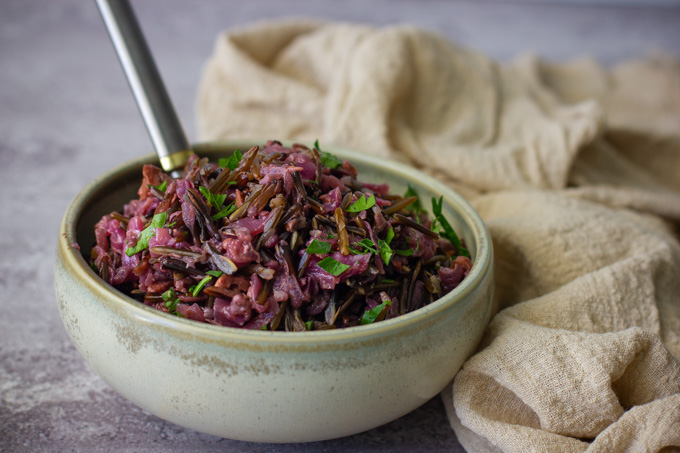 Today's recipe is all about wild rice. The first thing you need to know about wild rice is that it's not really rice. It looks a bit like rice, and that is where it got the name wild rice, but it doesn't belong to the same family. It is considered a healthy grain, and the bonus is that it's also super tasty.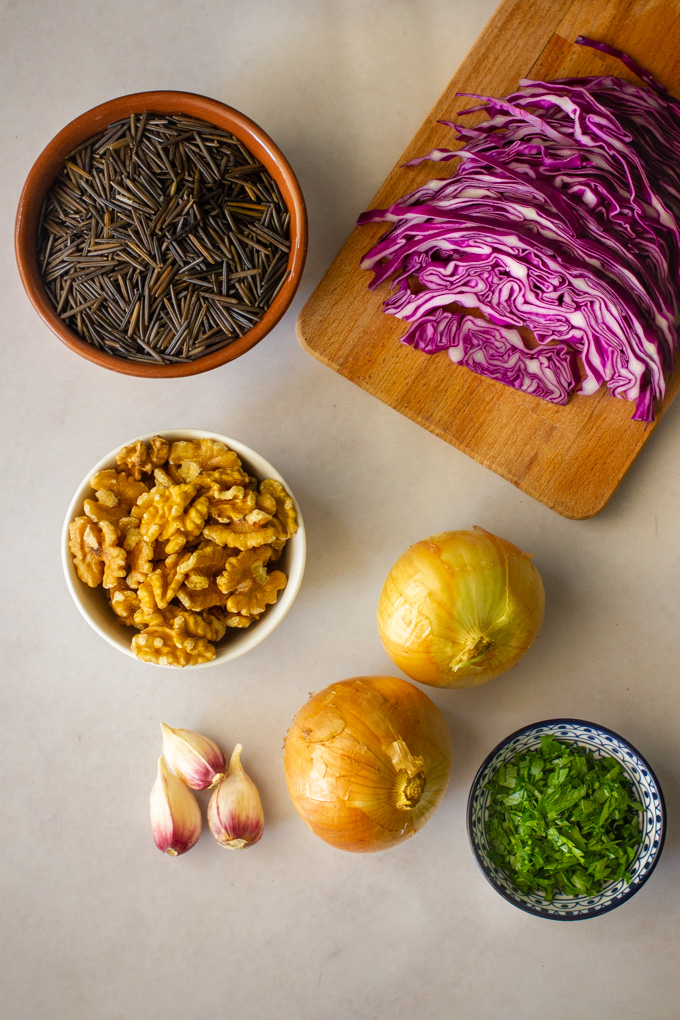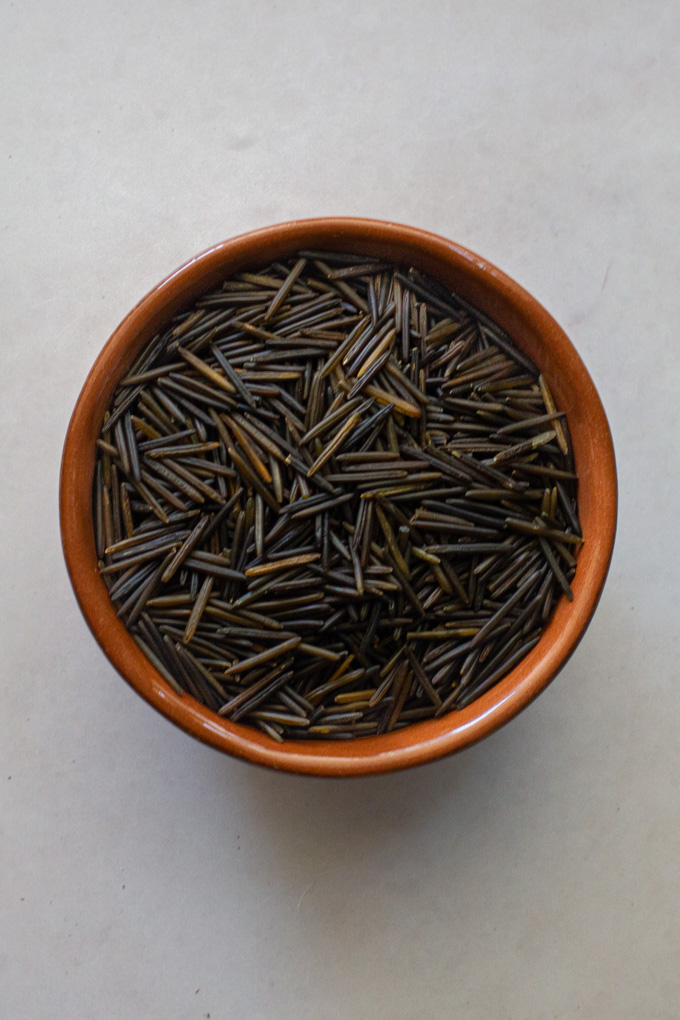 Wild rice looks a bit like twigs, but after cooking it opens and swells slightly and the its white inside is revealed. You should always make sure to buy it from stores you trust since it's critical that it would be kept in cool and dry environment.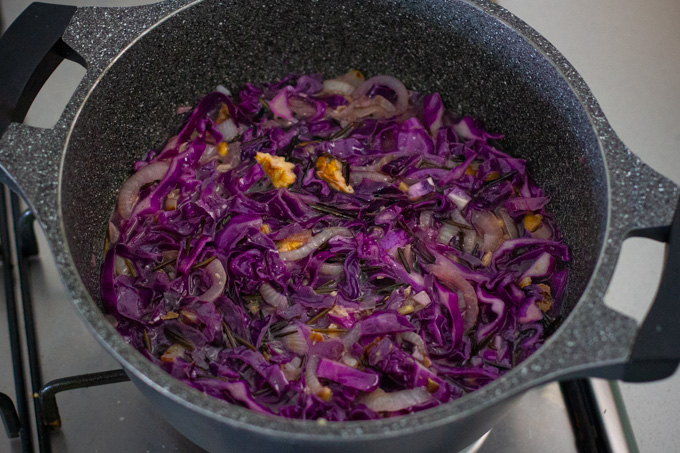 Its cooking is very simple – heat a little olive oil in a saucepan, add the wild rice and saute for about a minute while stirring. Add water in a ratio of 1: 3 (for every cup of wild rice 3 cups of water), cover and bring to a boil. Lower to low heat and cook for about 50 minutes plus or minus.
In the following recipe I paired the wild rice to the purple cabbage. Both wild rice and cooked cabbage have deep and earthy flavors and they truly compliment each other, not to mention the purple cabbage gives the dish the most amazing color. Because the cabbage itself contains liquids, the recipe calls for less water then the usually needed for cooking wild rice.
If you like this dish you will love: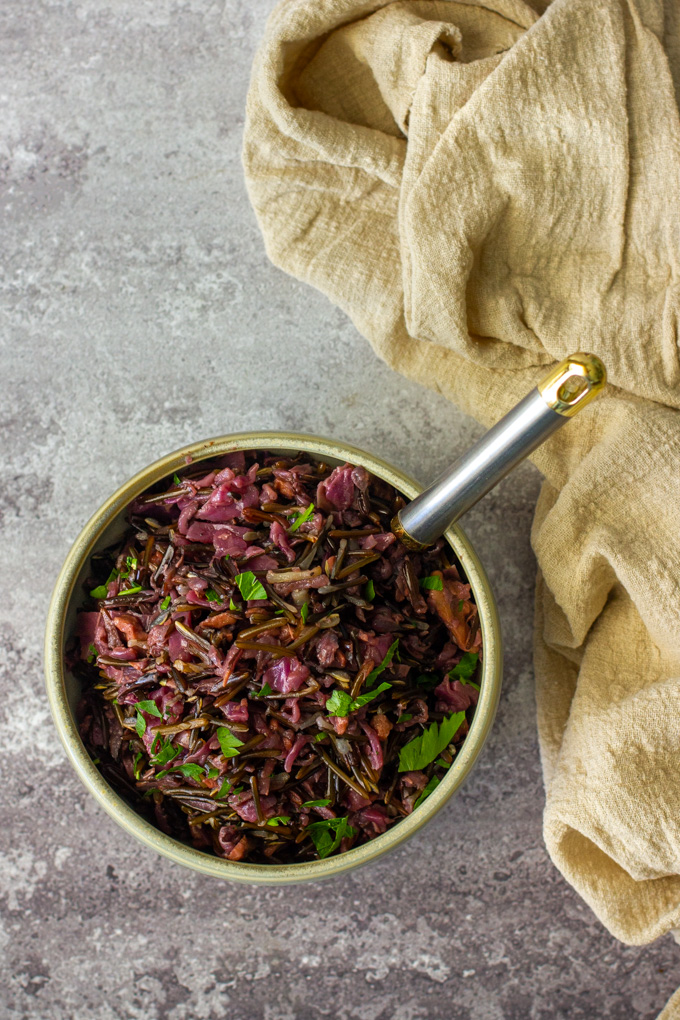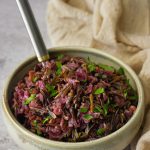 Print Recipe
Wild rice with red cabbage
Ingredients:
1

cup

wild rice

,

well washed and drained

1/4

red cabbage

2

medium onions or one very large one

3

cloves

garlic

,

chopped

1/2

cup

walnuts

,

coarsely chopped

2

tablespoons

olive oil

2

tablespoons

wine vinegar or balsamic

1/2

teaspoon

salt (or more to taste)

1/2

teaspoon

black pepper

2½

cups

of water

1/4

cup

parsley

,

finely chopped
Instructions:
Cut out the core of the cabbage. Then thinly slice the cabbage into thin ribbons or strips. Peel the onions, slice in half and then thinly slice the onions into strips as well.

Heat olive oil in a saucepan. Add the finely sliced ​​onion and sauté until transparent for about 5 minutes, stirring occasionally.

Add the sliced ​​cabbage, coarsely chopped walnuts, chopped garlic, salt and pepper and continue to cook while stirring for another 5 minutes, until the cabbage is slightly reduced in volume.

Add the washed wild rice, vinegar and water. Mix well, cover and bring to a boil. Lower to low heat (but not the minimum heat – just low heat) and cook for 50-60 minutes. While cooking, stir the dish occasionally – if at some point the liquids run out, then you can add water up to a maximum of an additional half a cup of water. The stew is ready when the wild rice kernels are burst open and the water evaporate completely. Leave the pot covered for an additional 5 minutes after the end of cooking.

Sprinkle on the chopped parsley and serve. Store in the refrigerator in an airtight container for up to 3 days.
Did you make this recipe?
Please let me know how it turned out!
comment below or share it on instagram and tag #thehappylentils