Jump to Recipe
When it comes to stuffed dishes, I really don't know what I love the most- eating it or preparing it… There is something relaxing, almost therapeutic in their preparation, like all of a sudden a kind of calmness takes over me and I am all aimed at the end result of a fancy stuffed dish pot.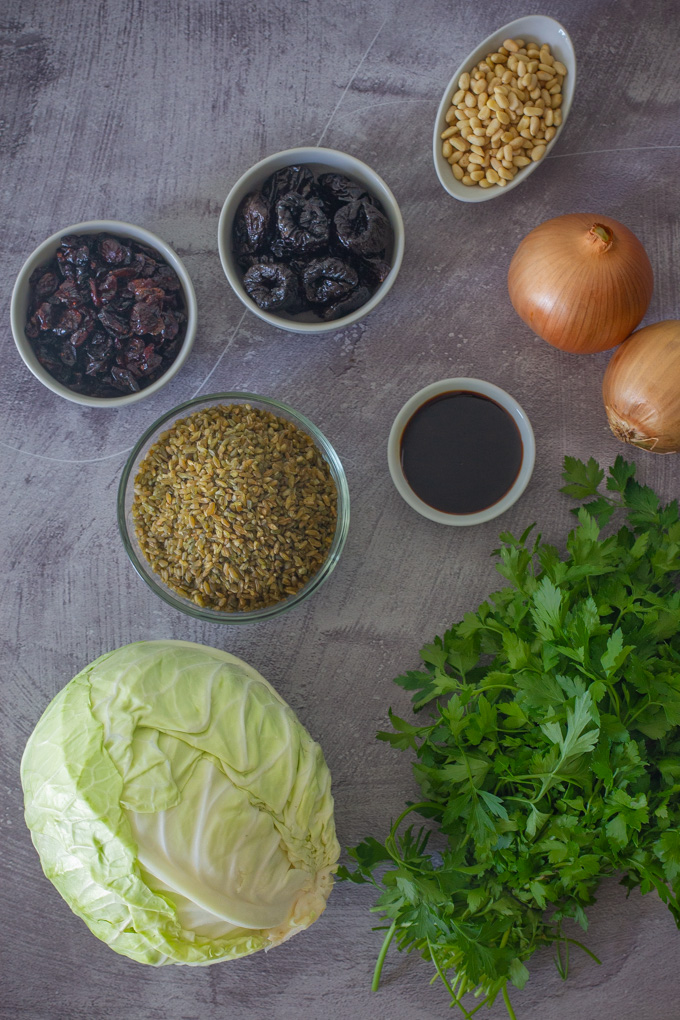 Stuffed food. What a glorious phrase. Always so beautiful, inviting, as if it holds a promise of delicious, warm, family food. When preparing stuffed food, you should come with a muse. Yes, yes, a muse. After all, you're about to spend the next hour preparing the dish, and that's before you even start cooking, so a muse will help. I look at it as a quality time with myself 🙂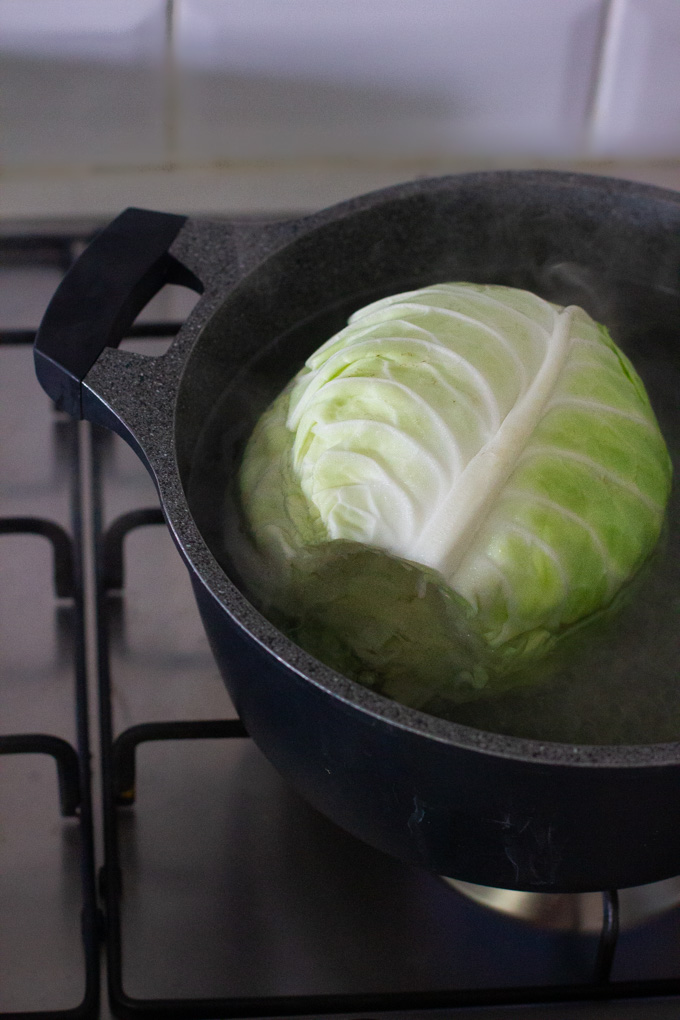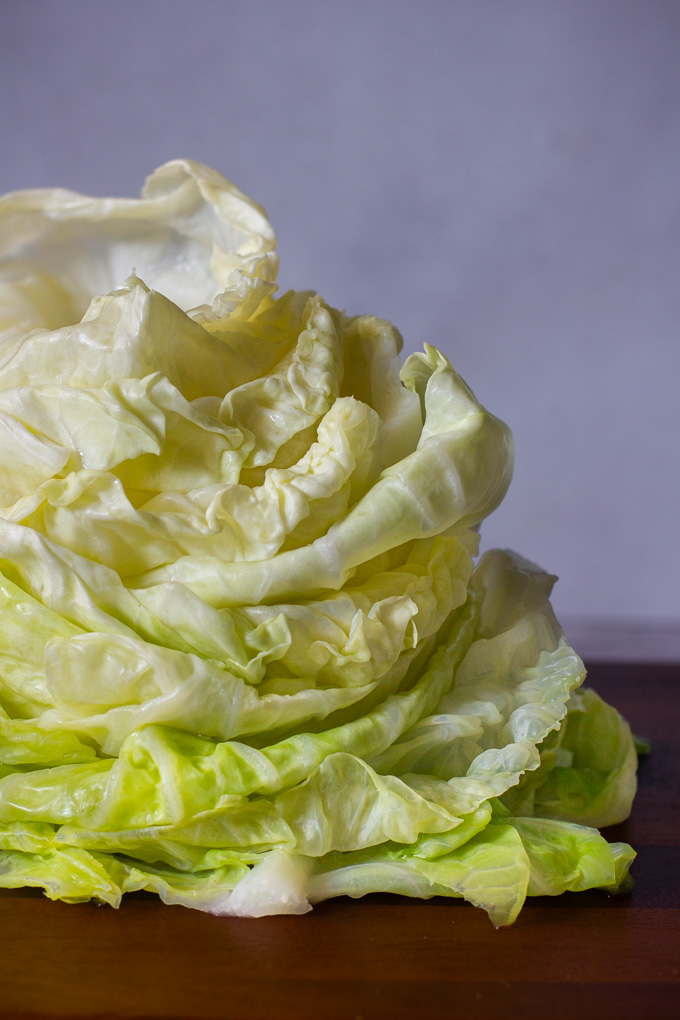 So there's a muse, and time too, and now that winter is at full force, spending hours in the kitchen seems like a legitimate activity. And this time I wanted to fill cabbage. I was thinking about this stuffed cabbage long before I actually made it. I thought about what to fill it with, what size of stuffed cabbage I wanted to make, the nuts and dried fruits I would use. I swear I already knew exactly what it would look like and how it would taste like long before I bought cabbage.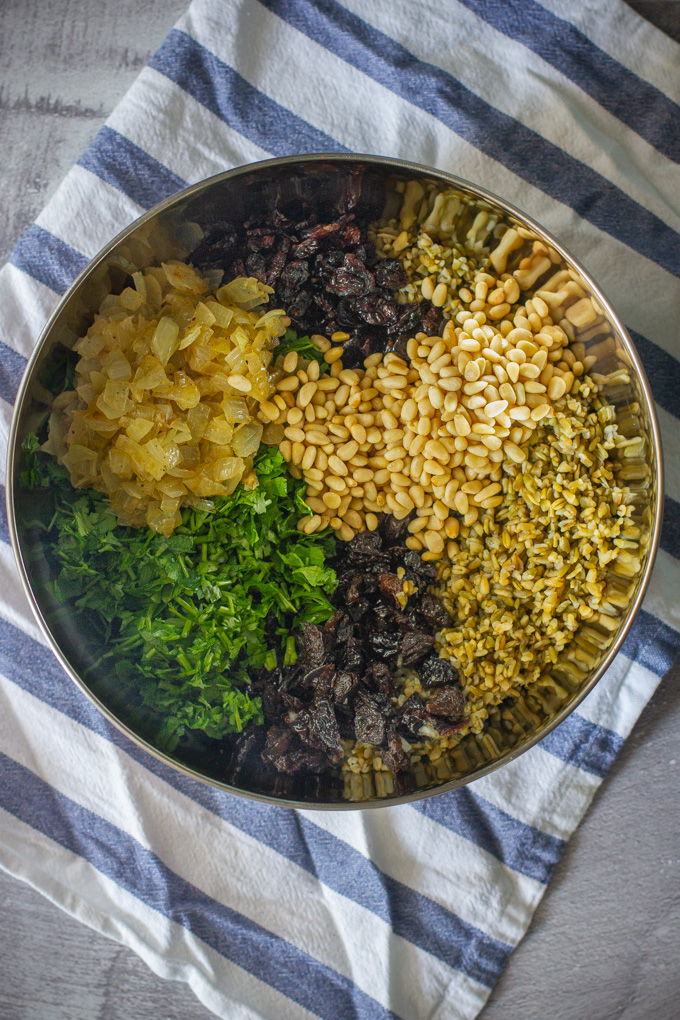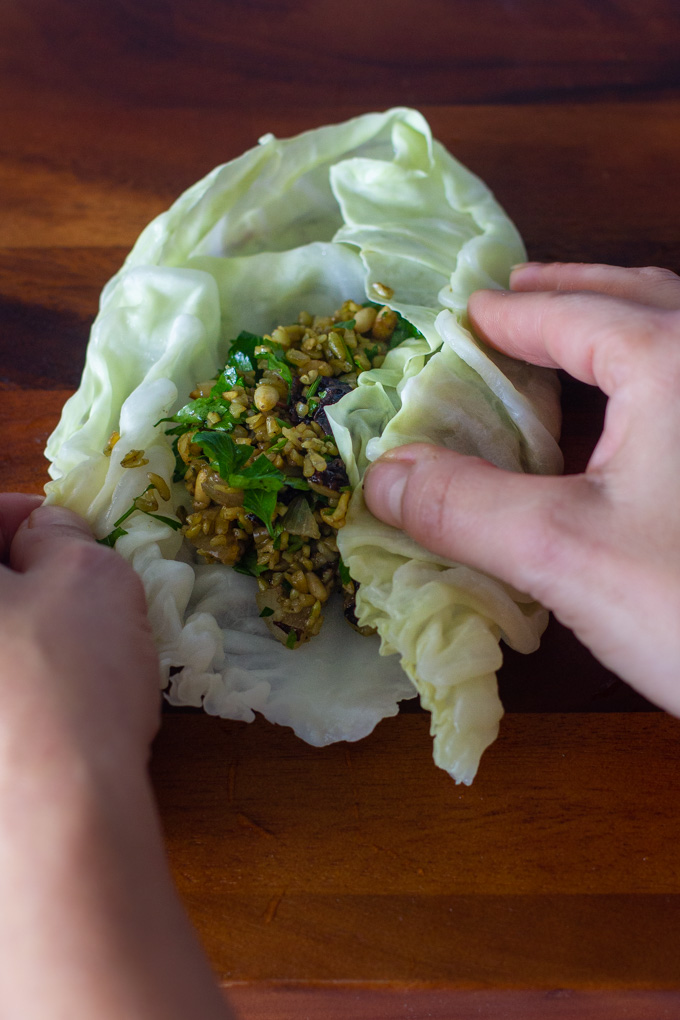 And let me tell you – the actual "event" didn't disappoint. Bowls and pots were scattered all over my kitchen, music in the background, my hair is pulled up in a messy pony tale and I'm floating between the cabbage leaves and the freekeh mixture, imagining Eyal Shani (an israeli chef known for his poetic descriptions of food) doing commentary in the background. And when I saw my pot getting fuller one stuffed cabbage after another, I thought to myself again how beautiful stuffed food looks, and I remembered how my grandmother would fill the smallest zucchinis, I have no idea how she managed to find such small zucchinis at all, and what she would think about me stuffing cabbage leaves, and even without meat 😊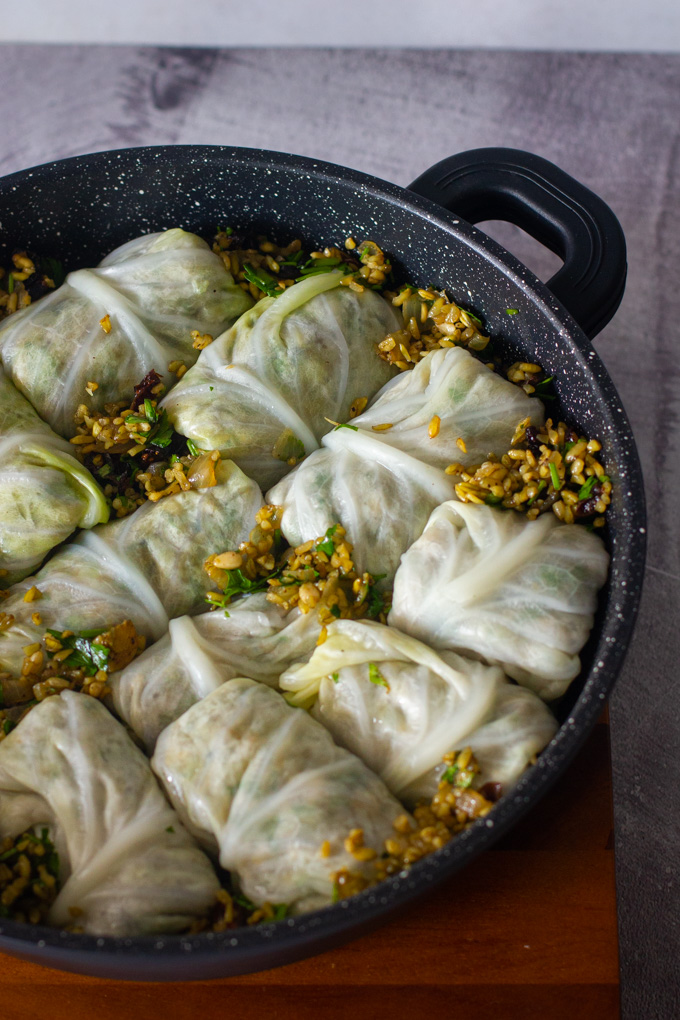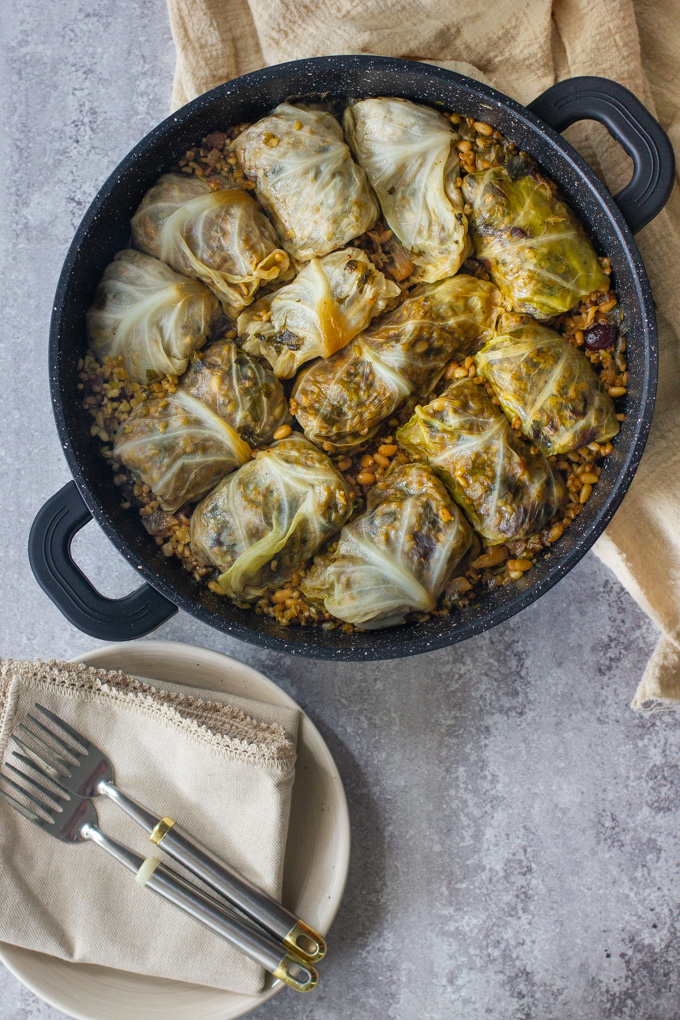 So… as I implied before, you should approach the preparation of the stuffed cabbage with lots of patience and, of course love. The first step will be to boil the cabbage in water, so that the leaves will soften and ready to be rolled. As for size – I like to make them full and plump, but you can make them as you prefer.
I chose to fill the cabbage with freekeh (durum wheat which is roasted or smoked), along with lots of other goodies like pine nuts, prunes and dried cranberries, sauteed onions, lots of parsley and silan (date syrup), which adds another layer of sweetness to the dish. A real treat.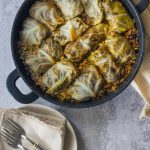 Print Recipe
Stuffed Cabbage with Freekeh, Dried Fruits and Pine Nuts
Ingredients:
for the freekeh filling-
1½

cups

freekeh

,

washed and drained

2

medium size onion

,

finely chopped

1/2

cup

wall nuts

1/2

cup

natural dried cranberries

1/2

cup

prunes

,

pitted and chopped

1½

cups

parsley

,

finely chopped

2

tablespoons

natural silan (date syrup)

1

teaspoon

baharat (see notes)

1½

teaspoons

salt

1/2

teaspoon

black pepper

2

tablespoons

olive oil

boiling water for the softening of the cabbage and for soaking the freekeh
for the sauce-
2

cups

water

2

tablespoons

natural silan (date syrup)

1/2

teaspoon

salt
Instructions:
Saute the onions- heat a pan or a skillet over medium-low heat with one tablespoon of olive oil. add the onions, a pinch of slat and a pinch of black pepper and saute it while stirring occasionally for about 10 minutes till nice and golden. set aside to chill.

Preparing the cabbage for stuffing – using a sharp knife, carefully remove the cabbage core by creating a kind of cone around it with the knife. Prepare a large pot, big enough to hold the cabbage, place the cabbage in it and carefully pour over boiling water till the water cover half of the cabbage. cook over a medium heat for 10 minutes on one side, then turn and cook 10 more minutes on the other side. Drain carefully. There are other methods for softening the cabbage – please see notes.

Once the cabbage has softened, the cabbage leaves can be easily separated by hand- simply peel them and place it aside on a clean plate. Continue separating the cabbage leaves until you reach the leaves that are too small to fill. Keep what is left of the cabbage – we will use it as a bedding for the bottom of the pot.

Place the freekeh in a medium bowl. Fill the bowl with boiling water, till the water will pass the freekeh by about 2 cm/ ¾-inch. Soak the freekeh in the boiling water for 10 minutes then strain.

In a large mixing bowl place the strained freekeh, saute onions, pine nuts, dried cranberries, pitted and chopped prunes, chopped parsley, date syrup (silan), bahert, salt and pepper. Stir well.

Prepare a wide pot or a saute pan that has a lid. Grease the bottom of the pot with a tablespoon of olive oil. Chop the leftover cabbage coarsely and use it to cover the bottom of the pot. If not enough, chop some onions so that the bottom of the pot is covered completely.

Fill the cabbage – take one cabbage leaf. Each leaf has a central stem that is too thick to roll, so using a knife either remove the central stem completely or polish the stem enough so that the leaf can be rolled (I polish it). Place the cabbage leaf on a clean surface and put about 2 generous tablespoon of the filling in the center of the leaf. Next, fold both sides of the cabbage leaf to the center and then roll it from the bottom up. Place the cabbage leaf in the pot / saute pan, with the seam facing down. Repeat for all cabbage leaves. If there is any filling left at the end, I like to place it in the gaps between all the stuffed cabbages.

Make the sauce – mix water, silan (date syrup) and salt and pour carefully on the stuffed cabbage leaves. The liquid should cover the cabbage leaves up to about 3/4 of their height.

Cover the pot / saute pan and bring it to a boil over medium heat. Lower to medium-low heat and cook for about an hour. Enjoy:)
Notes:
There are other methods for softening the cabbage leaves – my mother, for example, puts the cabbage in the freezer over night, and then the leaves are softened and easily separated. You can also soften the cabbage in the microwave – put it in a closed dish suitable for microwave and cook for about 10 minutes.
Baharat is a spice blend that has in it cinnamon, nutmeg, cloves, cumin seeds, coriander seeds, cardamom, salt and pepper (it may contain other ingredients too). If you don't have baharat you can use allspice or a mix of cinnamon and nutmeg.