Jump to Recipe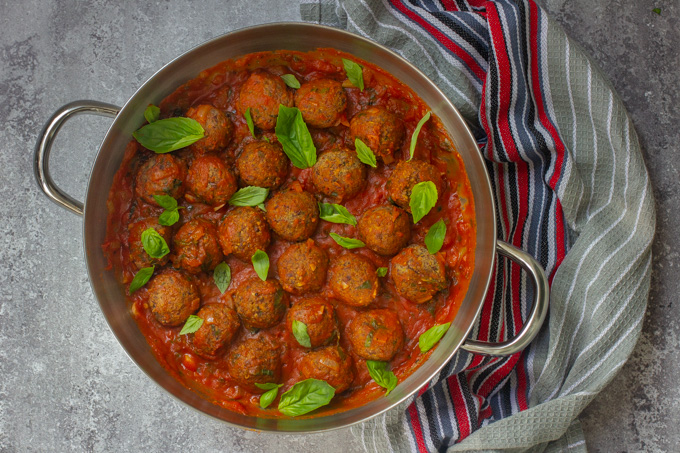 There is this thing about food, and I hope you nod your head (or at least you will soon) agreeing with me. I mean, food is a necessity, there's no doubt about it. We must eat, even several times a day. It's our fuel, like oxygen and sleep. But food is much more than that, food is also joy, or sadness, longing for someone or something, comfort. There is food that can place us in seconds in a different time, different place, food that can remind us of people we had in our lives or even remind us of ourselves at a different point in life.
Like potluck meatballs (and let's agree meatballs don't really have to include meat it it…). Because although in definition meatballs are food, it's much more than that. When I see meatballs, it automatically throws me back to my parents' house, and in my mind I see this beautiful pot with "red meatballs" (that's how we used to call it), standing on the stove, packed with flavors and love. And me as a little girl looking at this, imagining the plate my mom would serve me soon. Today, as a parent myself, I also know how satisfied my mom must have been, seeing me eating the meatballs she made with so much love.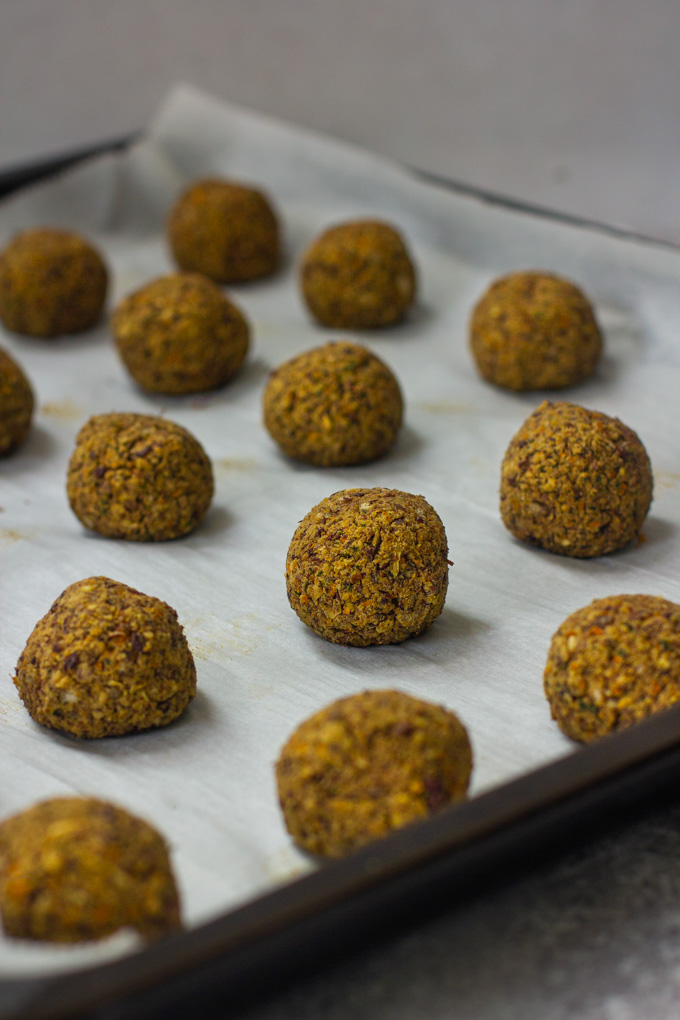 And as for the meatballs… a ball full of ingredients. A golden opportunity to put all the food groups into one ball, including ones that would not be accepted otherwise. A good meatball has in it proteins, carbs and vegetables (you must have vegetable in a good meatball!), and everything is squeezed into this delicious ball cooked in sauce, which is of course an integral part of the dish itself. How many vegetables my mom fed me through those patties… so many vegetables I feed my kids through the patties I make for them this days…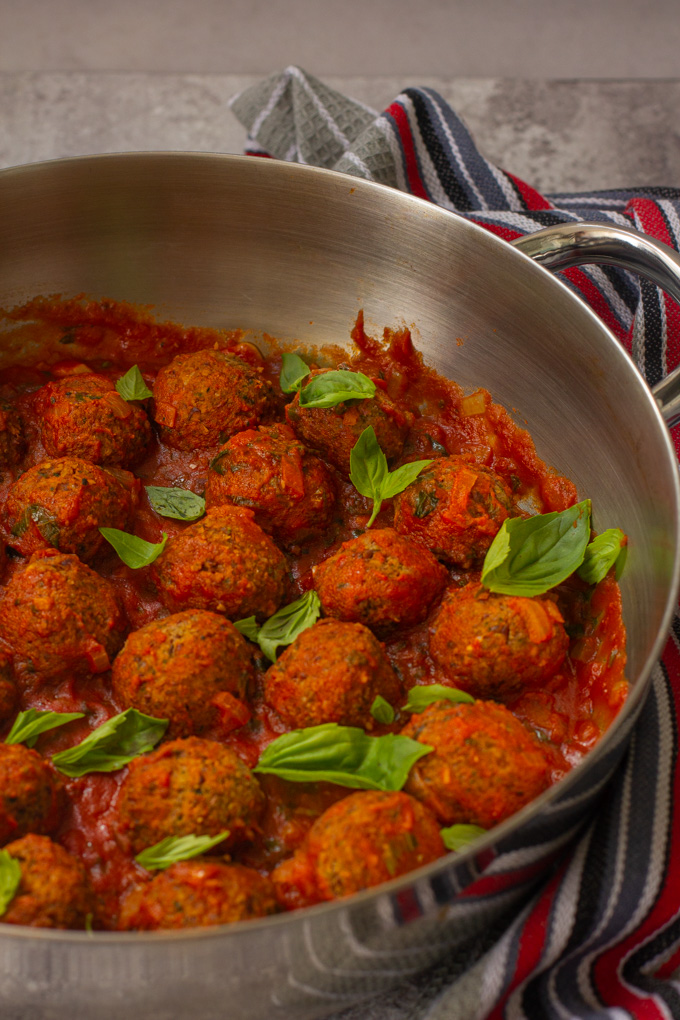 I'm sure everyone has his or her private memories of this kind, which is exactly what I mean. Because there is this thing about food, most of the times it's simply something to nourish the body with, but ones in a while it also nourishes the soul.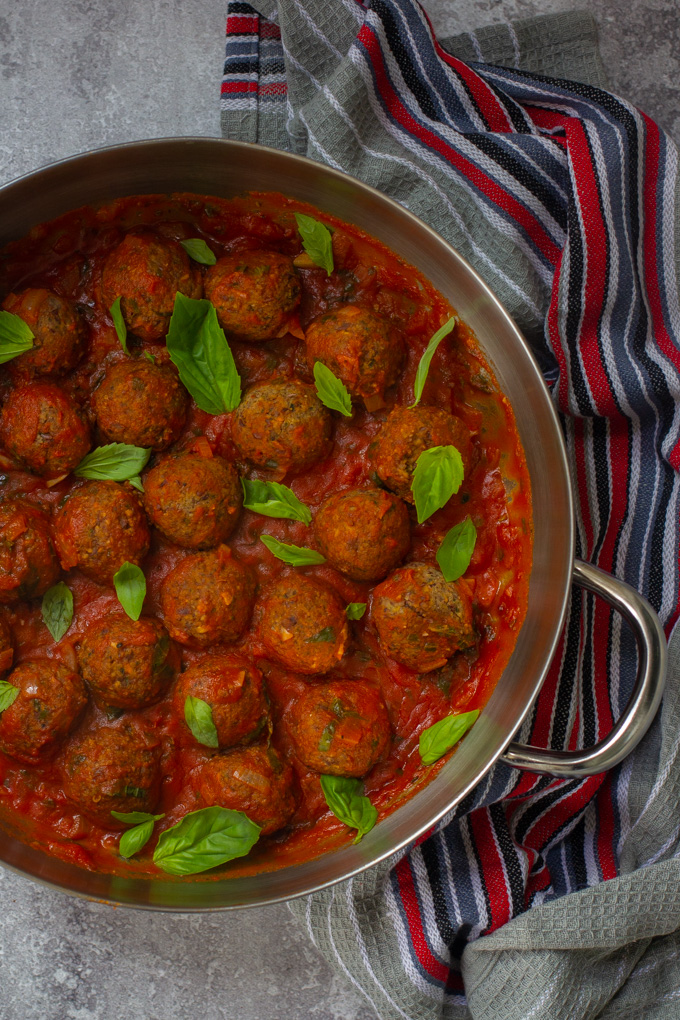 Today on the blog – vegan meatballs! that are similar to the meatballs I ate as a child only in sight. Those are not my mother's meatballs, those are my meatballs, full of plant ingredients that reflect who I am today, and still have in it from the child I used to be. The base of the patties is the adzuki bean, which is a delicious and digestible bean, bursting with things that do well for the body and with a shorter cooking time than the usual white beans, making it more useful in everyday life. The patties are completely vegan, and remain solid and wonderful thanks to prior baking them in the oven and short cooking in the sauce.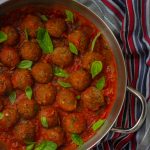 Print Recipe
Vegan Adzuki Bean Meatballs
Ingredients:
for the vegan meatballs-
1

cup

adzuki bean (before soaking it), soaked for at least 8 hours, well rinsed and drained

,

alternatively- use 2 cups of cooked adzuki beans

1

medium onion

1

medium carrot

1/2

cup

basil

1/2

cup

pecans

1/4

cup

natural oats

1

teaspoon

dried oregano

1

teaspoon

salt

1/2

teaspoon

black pepper
for the sauce-
14

oz

/ 400 gr crushed tomatoes

1

small onion

,

finely chopped

3

cloves

garlic

,

finely chopped

1/4

cup

basil + some to serve

,

coarsely chopped

1/2

cup

water

2

tablespoon

olive oil

1/2

teaspoon

salt

1/2

teaspoon

black pepper
Instructions:
Cooking the adzuki beans – place the adzuki beans in a pot with plenty of water (like cooking pasta). It is very important to remember not to add salt, which will delay the cooking of the bean and leave it stiff. Bring to a boil and cook for 40 minutes. Drain.

Preheat the oven to 350°F/180°C and prepare a large oven tray lined with baking paper or silicone roasting mat.

In a food processor, place all the meatballs ingredients – cooked adzuki beans, onion, carrot, basil, pecans, oats, dried oregano, salt and pepper, and grind well until the mixture is uniform.

Using clean hands, make the meatball – about 2-inch/ 5 cm diameter. Place them on the baking sheet and bake for 15 minutes.

In a wide sauté pan heat olive oil, add finely chopped onion and sauté for 2-3 minutes while stirring. Add chopped garlic cloves and cook for another minute. Add crushed tomatoes, water, basil leaves, salt and pepper. Bring to a boil, cover and cook on low heat for 10 minutes. If you want the patties to have lots of sauce, you can add another 7 oz/ 200 grams of crushed tomatoes and half a cup of water.

Carefully add the baked patties to the cooked sauce and cook for a further 5 minutes, and no longer than that. make sure you don't add the patties to a boiling sauce (it should simmer gently). Sprinkle with basil leaves on serving.