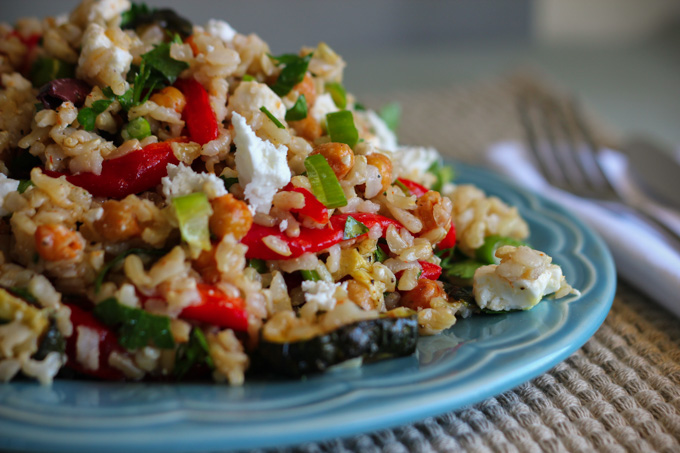 I wanted to dress up.
I didn't have an actual reason to dress up, there wasn't any special occasion, it was just another ordinary day and I was on my way to work, but I wanted to. I felt like looking at myself in the mirror and to see myself looking at me back a little more pretty and sparkling than usual. So I stood in front of my closet and gazed at it, like waiting for some dress or a blouse that hid there to jump at me, something that was exactly what I wanted to wear. A kind of non-existing garment, that has everything I wanted in (except from the part of being an actual garment in my closet…), and if not that imaginary garment, then I was looking at least for something I haven't worn in such a long time that it will feel new. Because I also wanted to be renewed. To dress up festive and to be renewed. It's a feeling I have lately, but for now I'll settle for that in a piece of clothing.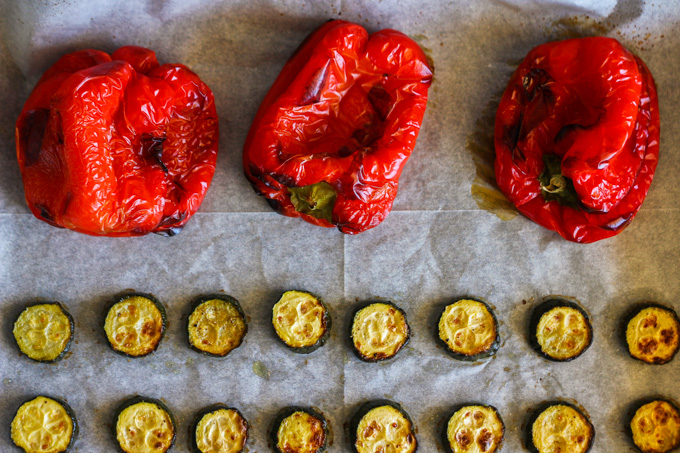 So as things tend to get with imaginary clothes.. I didn't find exactly what I wanted, but I did find something. Truth be said, it wasn't the most festive garment there is, it was actually my worn and beat up jeans I wear at least 3 times a week…, but I managed to find a blouse I haven't wore for a really long time because there was never really the right opportunity, and I decided today it is. Not because there was anything special in that day, it really was just like any other ordinary day, but precisely because of that and due to my festive unexplained feeling I had, I felt like the opportunity had come. And just to add to that dress up vibe I had, I put on a pair of socks I once bought and cost me a fortune during an optimistic spree in London, despite the fact (and maybe because of the fact) no one will see them but me.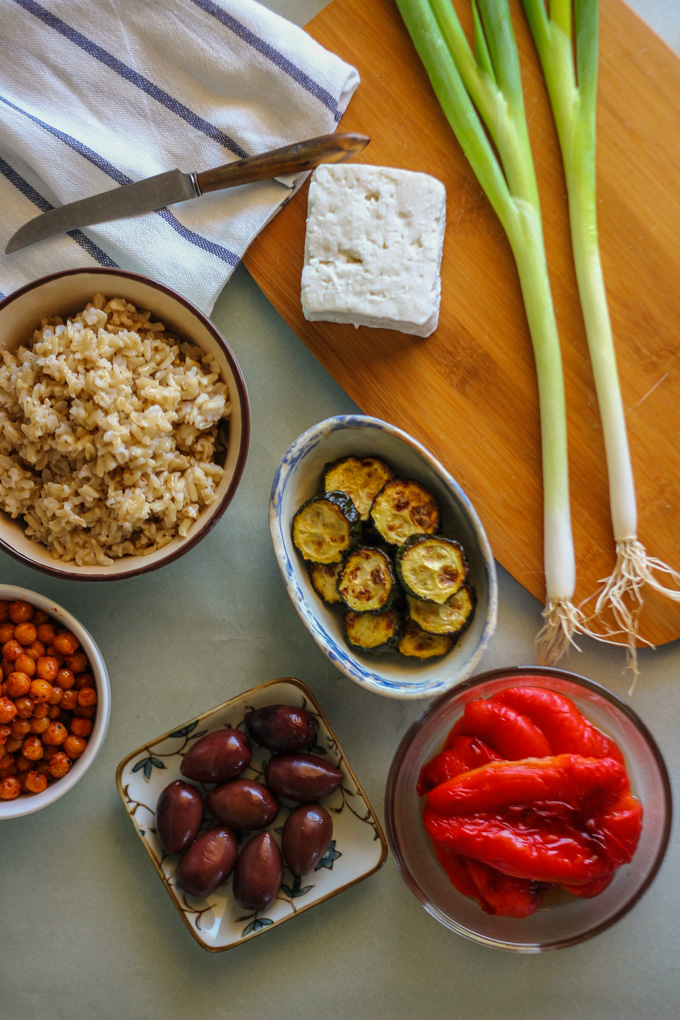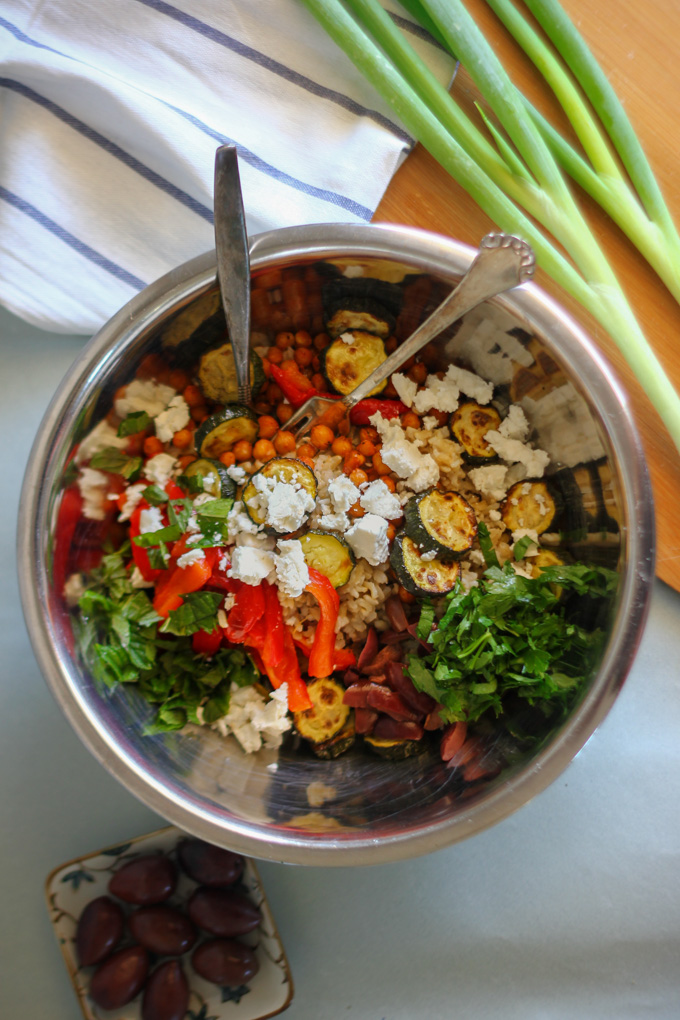 I looked at the mirror, and though in any other day I could find many negative things to say on the one reflecting to me in the mirror, I chose to smile and be content, and with that feeling I left the house. And then something happened. This ordinary day that was about to happen got a pinch of sparkle. The way to work was as usual, but then the radio played a song I didn't hear in a long time and really liked, and that made me feel good. At work, I was complimented at least 3 times on my blouse and I just said "thank you" and smiled and didn't make any other comment, and when I was making myself my usual salad I eat for lunch, a colleague that was making her own lunch next to me offered me some green onions and basil leaves she had that up-scaled my normal salad. It was still an ordinary day. I still drove my kids to and from school, I still went to the office and spent hours in front of excel sheets, and yet, it felt a bit better than usually. Is it because of what I wore? Of course not. Is it because I decided to dress up festively? Absolutely.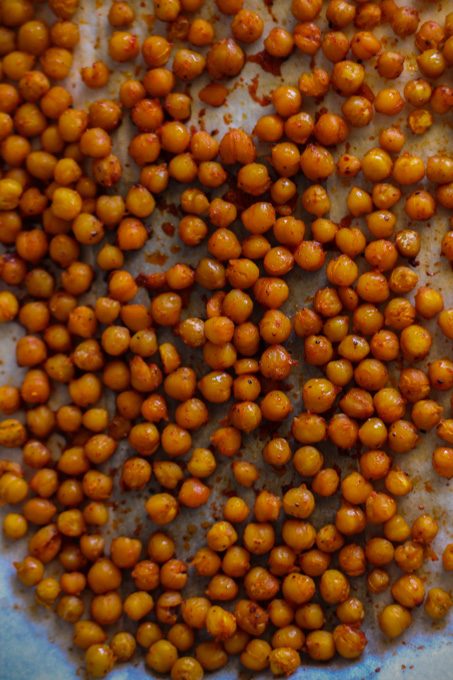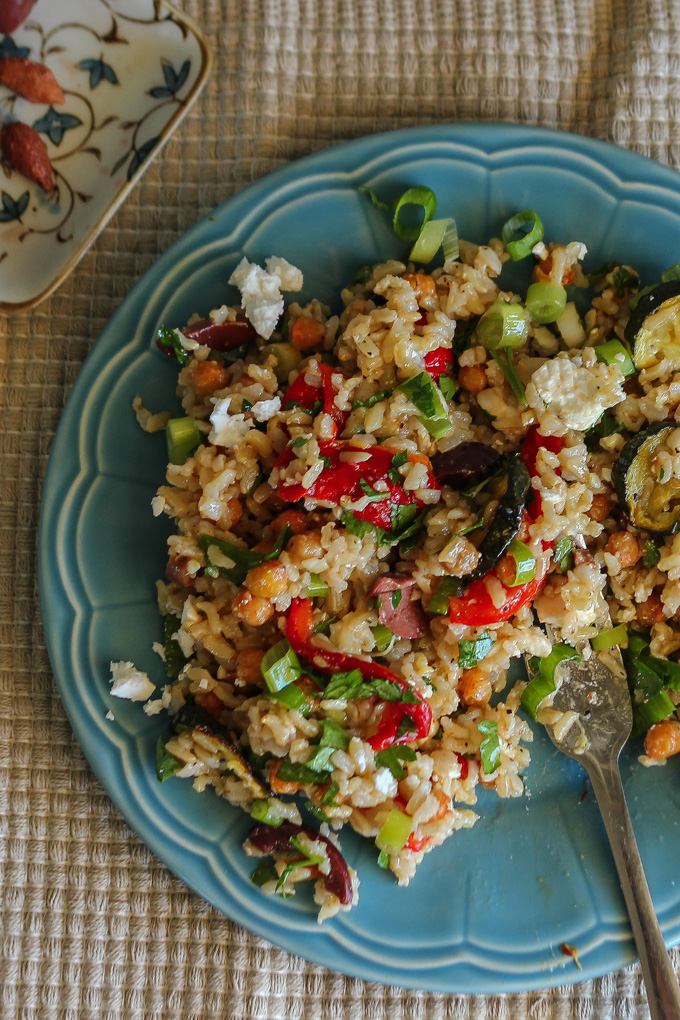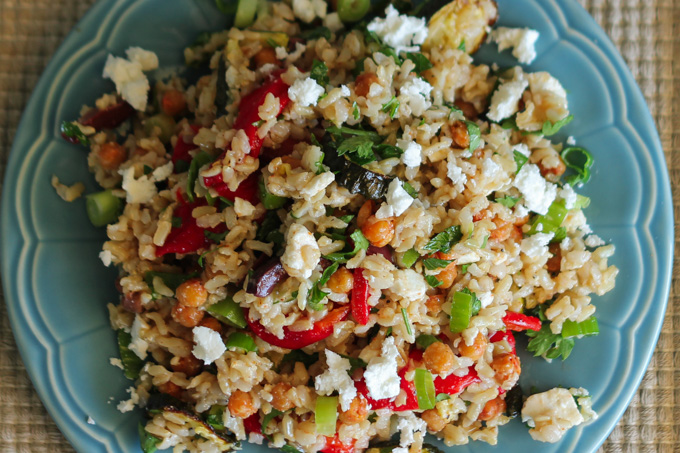 What a fun salad. Supposedly a simple rice salad, but combined with so many fresh and tasty ingredients that decorate it and gives it the extra sparkle;). Roasted peppers and zucchinis, spiced chickpeas, kalamata olives, feta cheese, mint and parsley- bold flavors mixed together into a celebration in the mouth. You can use the highway on this recipe and buy some of the roasted ingredients, but if you roast everything yourself be sure to make an extra batch and save it in the fridge- those ingredients will happily decorate and upscale any salad or pasta dish you'll make and even will be great just as a snack. And oh, it's just a great salad to take to work!
Antipasto Brown Rice Salad

serves 4-6
Ingredients:
1 cup of washed and drained brown rice
2 cups water (for the rice cooking)
2 red bell pepper (or store-bought roasted bell peppers)
2 zucchinis (or store-bought roasted zucchini)
1 cup cooked chickpeas (you can use canned, washed)
12 kalamata olives, pitted and sliced in half
2-3 green onions, chopped
1 bunch of mint (1/2 cup), finely chopped
1 bunch parsley (1/2 cup), finely chopped
5 oz/ 150 gr feta cheese, crumbled
1 tablespoon wine vinegar (red or white)
4 tablespoons olive oil
salt & ground black pepper to taste
for the roasted chickpeas-
1 tablespoon olive oil
1 teaspoon sweet paprika
1/2 teaspoon cumin powder
a pinch of salt & ground black pepper
Instructions:
1. cook the rice- in a heated pot, fry the rice with 1 tablespoon of olive oil over a medium heat for about one minute. Add 2 cups of water, salt and freshly ground black pepper and bring to a boil. cover the pot with a lid and cook on a small heat for about 45 minutes, till all water evaporate. let the lid on for at least extra 5-10 minutes, and let the rice cool to room temperature.
2. Roast the sweet peppers (if you use store-bought skip this part)- preheat the oven to 180°C/350°F. lay the peppers on a baking pan lined with parchment paper and roast for about 30 minutes, turn them a couple of times during cooking. Remove from the oven and let them sweat a bit more- either in a ball with plastic wrap on it or a sealed plastic bag, for about 20 minutes. Then, remove the stem and the seeds, and peel the skin (that should be easily done). Cut into wide straps.
3. Roast the zucchini (if you use store-bought skip this part)- preheat the oven to 180°C/350°F. Slice the zucchini into 1/4-inch (1/2 cm) rounds, toss it with 2 tablespoons of olive oil and a pinch of salt and ground pepper. lay it on a baking pan lined with parchment paper in one layer and roast in the oven for about 20 minutes, turn them halfway through, till the zucchini starts to brown. Leave to cool.
4. For the spices chickpeas- preheat the oven to 180°C/350°F. toss the cooked chickpeas with 1 tablespoon of olive oil, paprika, cumin, salt and pepper, lat on a baking pan lined with parchment paper in one layer and roast in the oven for 20-25 minutes. Leave to cool.
5. Combine the salad- in a large mixing ball put all the salad ingredients (rice, roasted peppers and zucchinis, spiced chickpeas, olives, green onions, chopped mint, chopped parsley and crumbled feta cheese), toss with 3 tablespoons of olive oil, wine vinegar, salt and freshly ground pepper. Be careful with the salt since the salad has the olives and feta cheese in it.
Store in the fridge in an airtight container for 2-3 days.
Notes:
• Add a couple of cucumbers to the salad for an extra crunch and freshness. Of course, once you put in the cucumbers you can't store the salad.
• The salad can be easily veganize by replacing the feta cheese with tofu.
• You can absolutely roast peppers, zucchinis and chickpeas at once, just pay attention to the different roasting time.