Jump to Recipe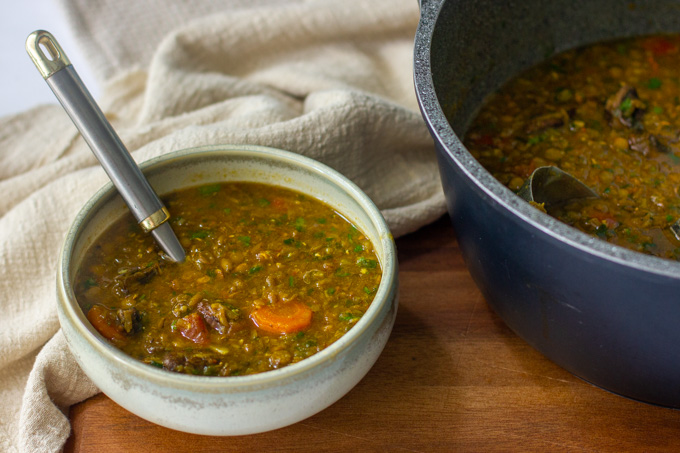 So after a while that life seems as if we are living one long week that started somewhere around March, the weather here is finally changing and that brings something new to life, some change. I wont lie, COVID19 made the last few months difficult for me, as for the rest of the world obviously, and the feeling is that everything is stuck in place. And here comes the rain, and there is something new to look at and suddenly it seems that time does pass, even if nothing else has really changed.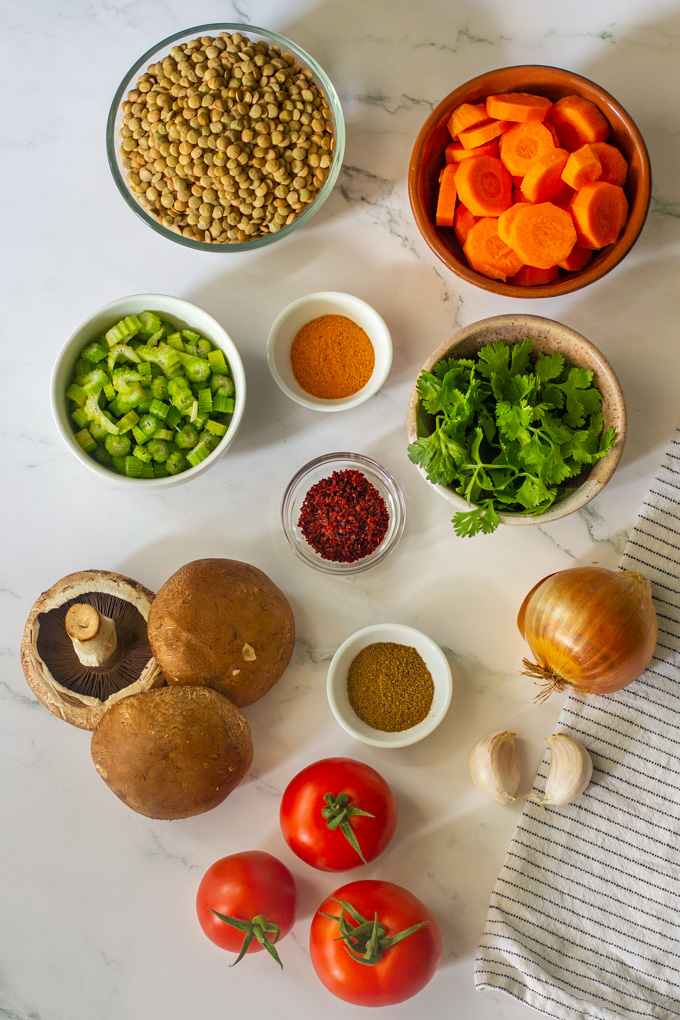 The weather is changing, new winds are really blowing, and I understand more than ever that I have to break away from everything that is happening outside, and try to imagine and build a private world for myself. And in my private world autumn is coming, and there is excitement from all kinds of citrus fruits and an abundance of green vegetables returning to the markets. And in my private world the most urgent thing to deal with is hot stews and comforting soups and challah on Shabbat and in general lots of happy pots to gather my family around.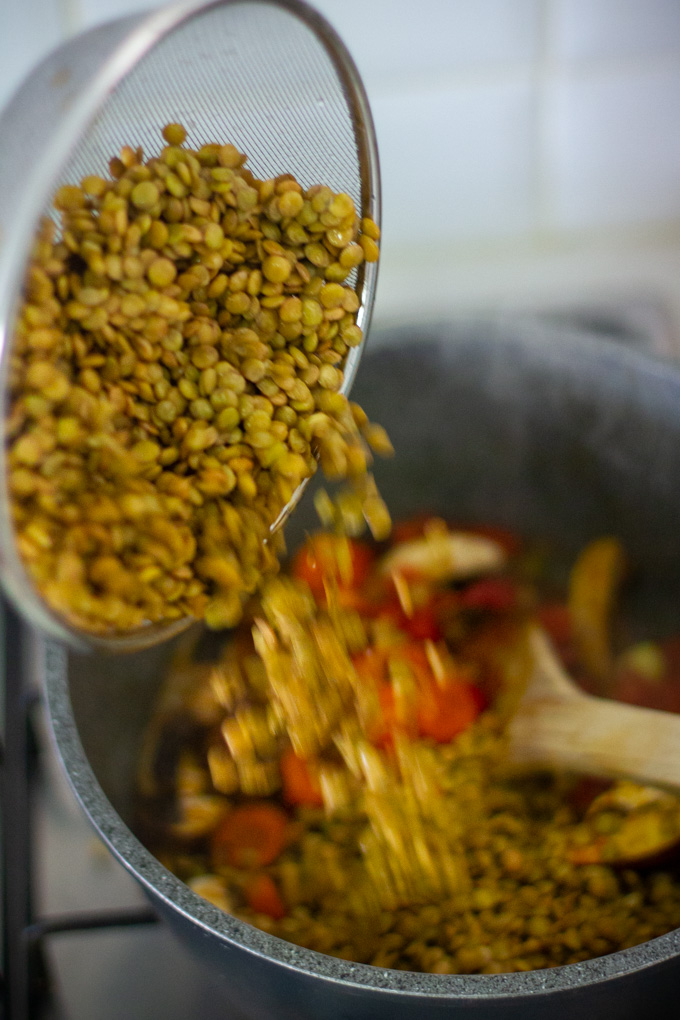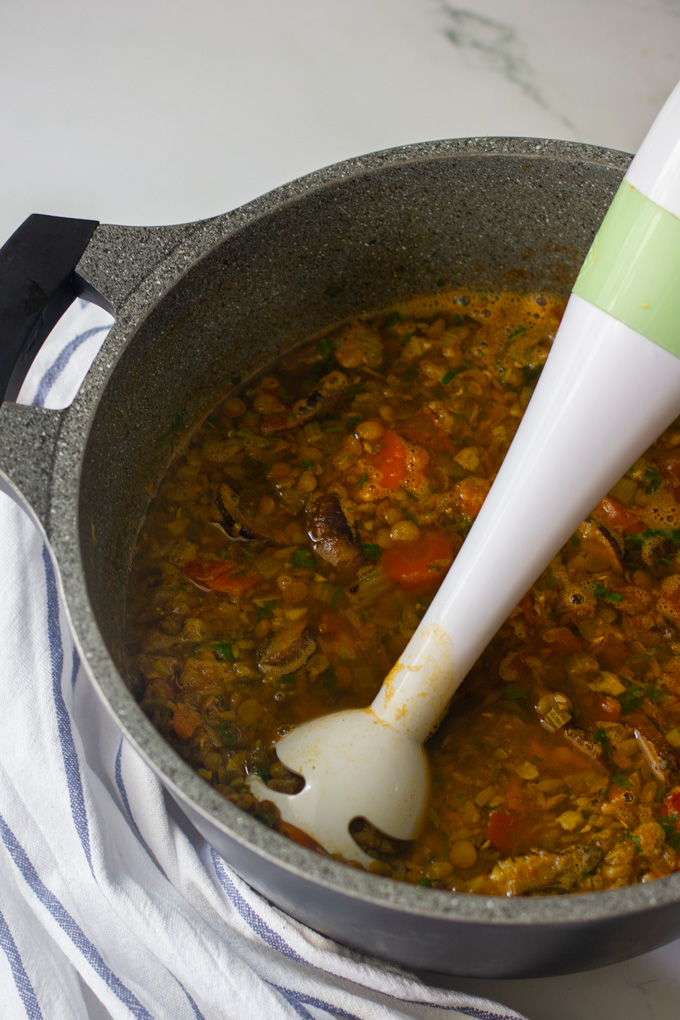 The first soup I chose to make is this soup – a thick and satisfying green lentil soup, with the most modest ingredients but also those that prove that you don't need too much to make your house a home. And as the soup boiled and bubbled, a gorgeous smell spread in my home that reminded me the smell in my late grandma Fanny's kitchen, and no one was happier than me.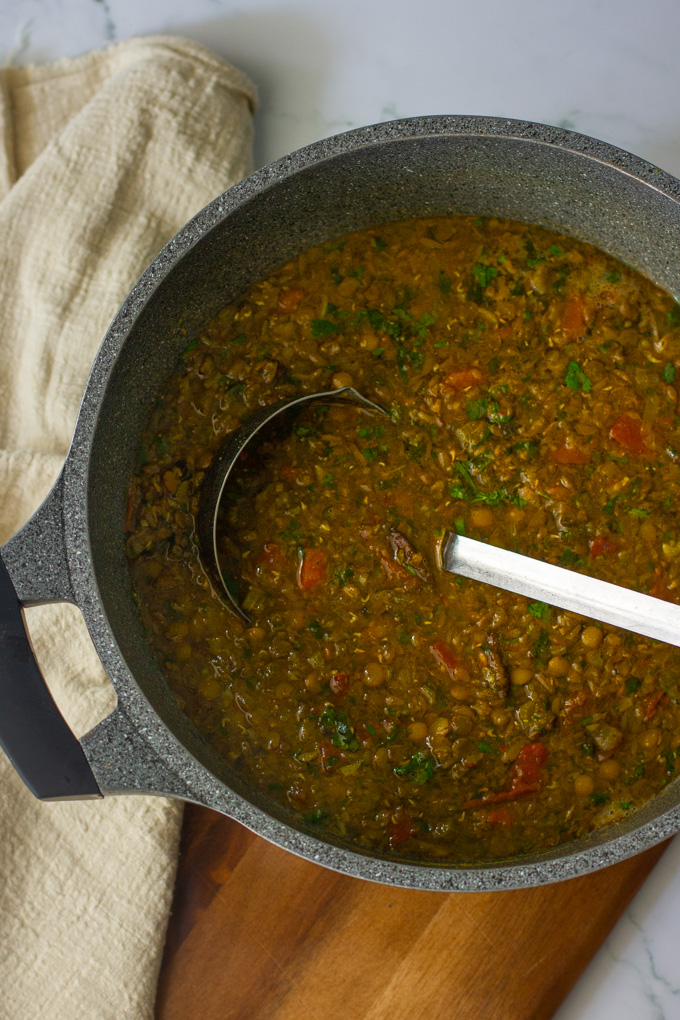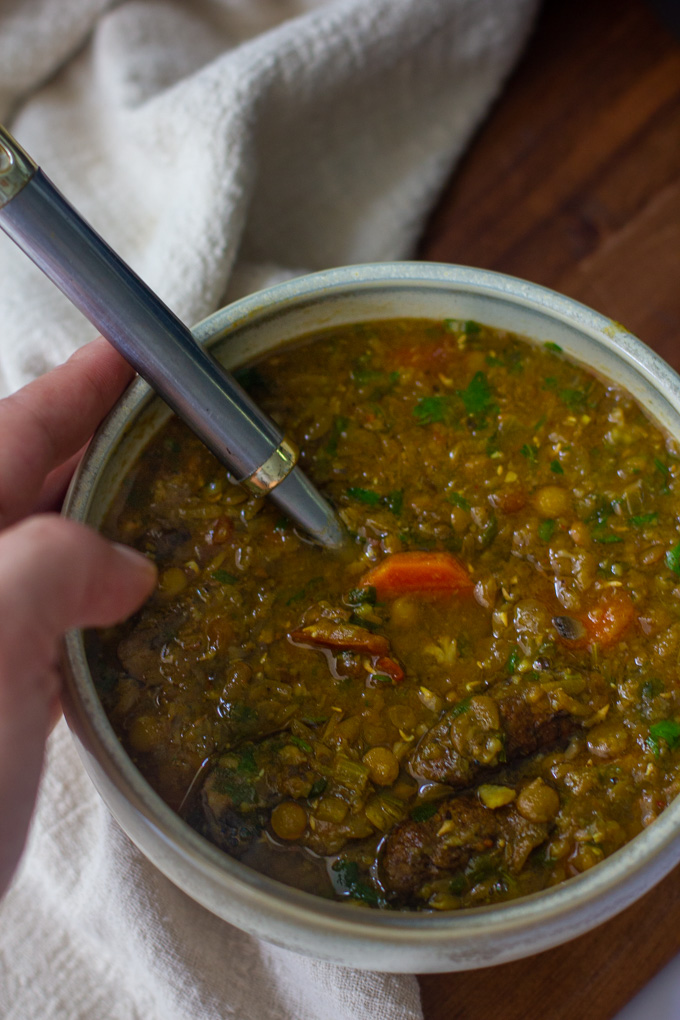 The making of the soup starts with the french holy trinity (mirepoix) – onions, celery and carrots. It has mushrooms and tomatoes in it, that add depth. And just like any good soup, it must be finished with lots of green herbs and this time it's cilantro. The cooking time here is relatively short, and in the end I really recommend mashing some of the soup, whether with a hand blender or a potato masher, which gives the soup its amazing texture. Now for the recipe:)
Crazy for soups just like me? Here are some more great options: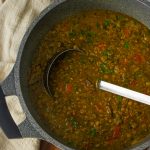 Print Recipe
Green lentil and mushroom soup
Ingredients:
1½

cups

green lentils

,

washed and drained. It's not a must to soak lentils, but I usually soak them for at least two hours.

1

tablespoon

olive oil

1

medium onion

,

chopped

2

medium carrots

,

sliced ​​into rings

2

celery stalks

,

chopped – about half a cup

250 gr/ ½ pound mushrooms

,

coarsely chopped

2

tomatoes

,

coarsely chopped – about a cup

2

cloves

of garlic

,

chopped

½

teaspoon

cumin powder

½

teaspoon

turmeric powder

1

teaspoon

sweet paprika

1½ liter/ 6 cups of water or vegetable stock

1

teaspoon

salt

½

cup

cilantro – leaves only

,

chopped
Instructions:
In a large pot, heat olive oil. Add chopped onion and sauté while stirring until transparent, about 3 minutes.

Add sliced ​​carrots, chopped celery, chopped mushrooms, chopped garlic and the spices – cumin, turmeric and paprika. Be careful not to add salt at this point but only at the end of cooking (adding salt to legumes delays their cooking and leaves the beans stiff). Stir and cook for another 5 minutes.

Add to the pot the green lentils (well washed and strained of course), chopped tomatoes and water or vegetable stock. Stir and bring to a boil. Cook over medium heat without a lid for about 35 minutes, until the lentils and all the vegetables are softened.

Carefully remove the pot from the heat. Using a hand blender, mash some of the soup to create a thick and delicious texture. Alternatively, you can use a potato masher or mash in a blender about half of the soup. Return the soup to the stoves, add a teaspoon of salt, or more to taste, stir and cook for another 5 minutes.

Stir in fresh cilantro, chopped, and serve.
Did you make this recipe?
Please let me know how it turned out!
comment below or share it on instagram and tag #thehappylentils