Jump to Recipe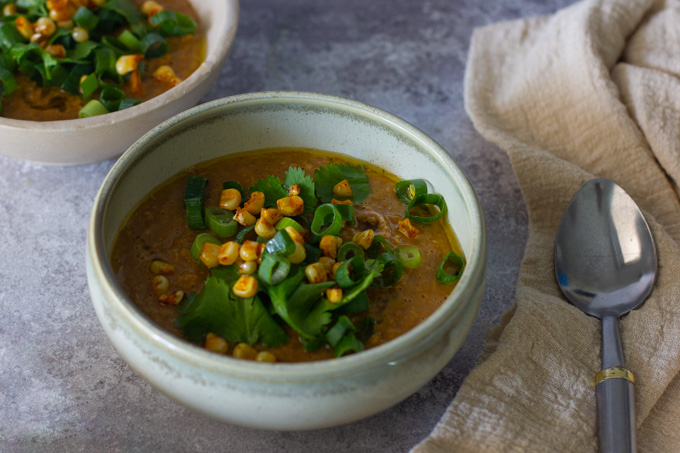 Everyone has these dishes he or she makes almost automatically, dishes you cook / prepare without even thinking about it and that the hands kind of "know" what to do. Sometimes these dishes are the ones we make regularly, and then usually we have all the ingredients at home, or at least on the fixed shopping list. For me at this point in life, the dish I make most automatically is… israeli couscous (can you even call israeli couscous a dish? I think you can!) But it's without a doubt because of my kids, who could eat israeli couscous for breakfast, lunch and dinner if it depended on them. By the way, along with the israeli couscous, and in the same category, is of course simple white rice.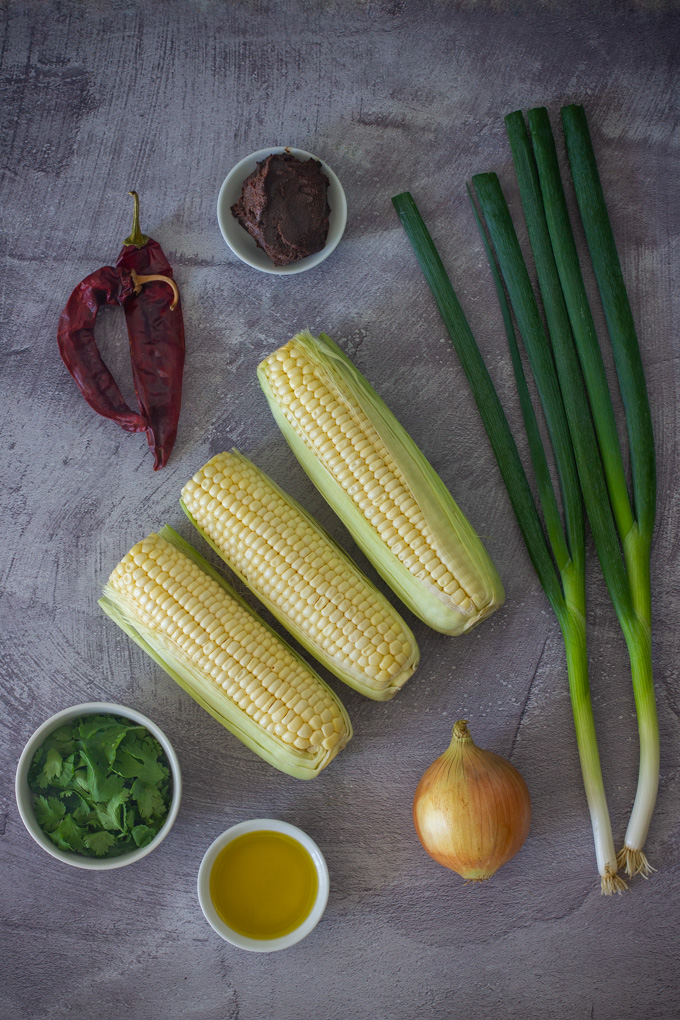 There are dishes that your hands can make automatically because of a certain cooking style. That is, the ingredients can change but the seasoning and the way you cook them remain the same. Like the Moroccan seasoning paprika-cumin-turmeric or the French onion-celery-carrots or something similar. Sometimes the cooking style comes from home, sometimes it's something we fell in love with on the way and adopted, it really doesn't matter.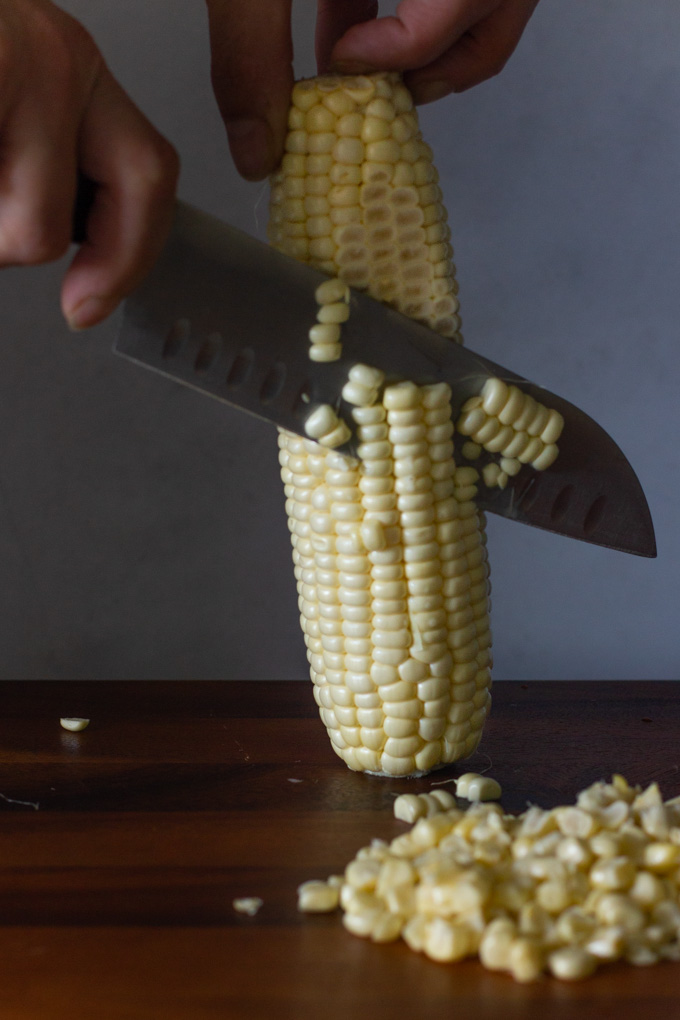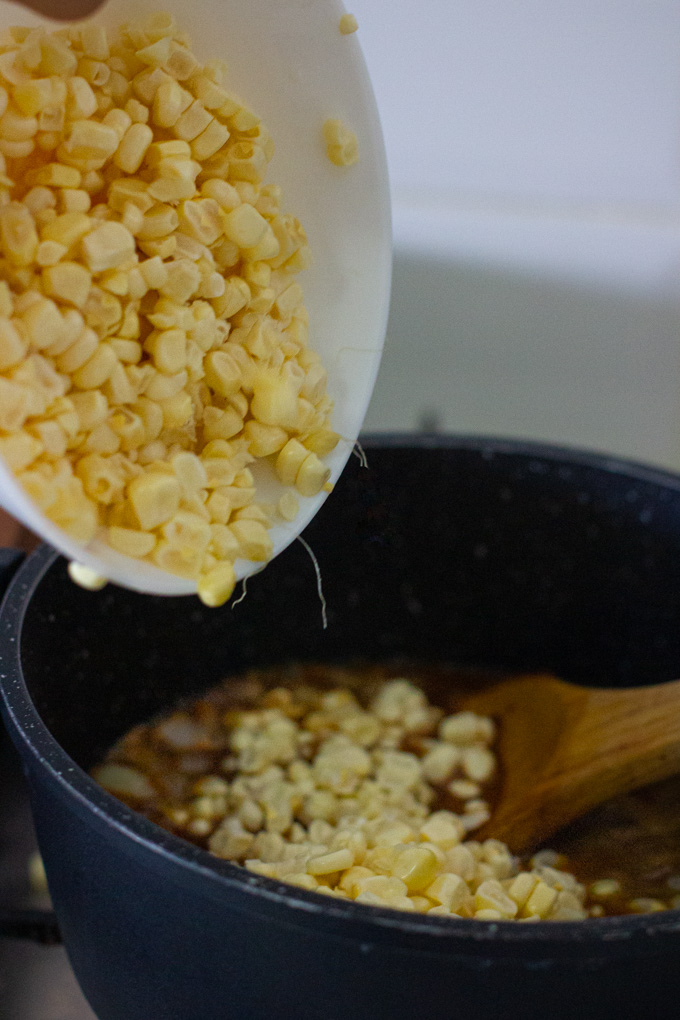 And than there are the dishes that we do automatically even if we haven't done them for a long time, simply because they are part of who we are. Just like we will always remember the way to our childhood home or our best friend from school's phone number. If I had to choose one such dish for me, it'll probably be vegetable soup, but the classic one, like the Jewish chicken soup without the chicken. This soup, even if I wouldn't make for two years or even ten years, I'll know automatically- without any recipe, but with lots of love, to bring together the most amazing vegetable soup. It probably won't be exactly the same as the one I made before (they never are…), but it sure will be from the same family, and that's exactly the point.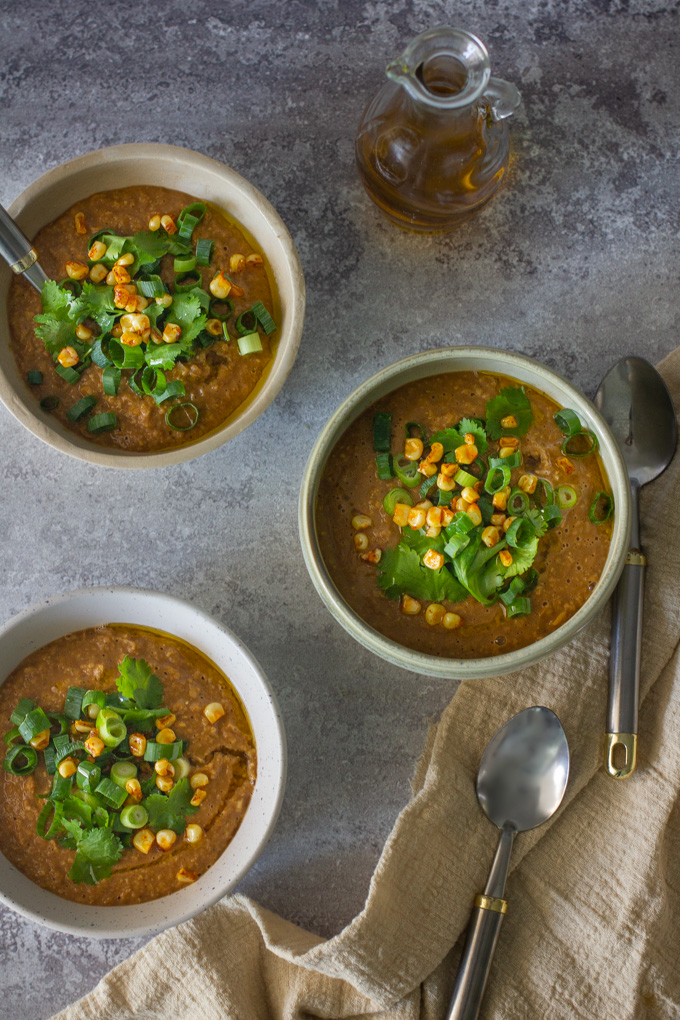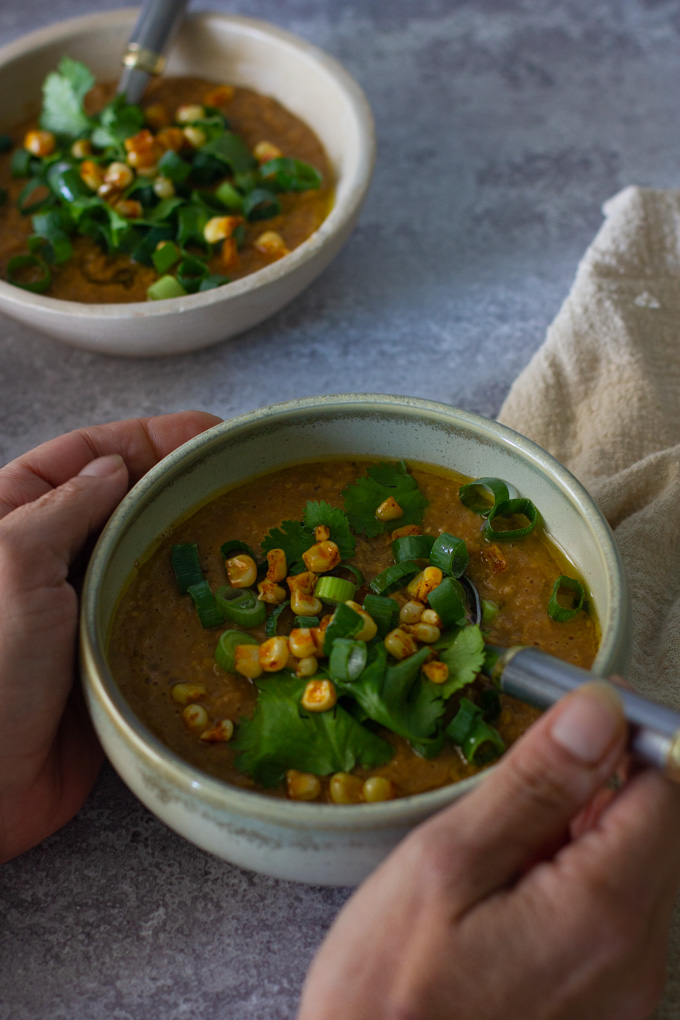 Here is a dish that really didn't automatically come to me. I don't usually buy or cook with corn, but I saw these beautiful white corns at my local vegetables store and I just had to buy them. Cooking the corn with the miso creates an interesting combination (I think miso is general has a genius flavor) and all the other additions – roasted corn, chili oil, green onions and coriander are an integral part of the soup and you shouldn't give up any of them.
One last thing (which is also in the recipe's notes) – you don't have to make chili oil. It is possible to buy or use your favorite spicy sauce (including Tabasco), but I wouldn't give up a little spice in the soup completely since it gives a good balance to the sweetness of the corn.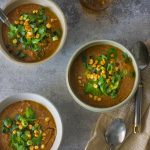 Print Recipe
White Corn and Miso Soup with Chili Oil
Ingredients:
3

cups

white corn (I used 4 cobs for it)

1

medium

onion

,

chopped

1/4

cup

miso paste

4

cups

water

2

springs

green onions

,

finely chopped

1/2

cup

cilantro

,

chopped

1½

tablespoon

olive oil

1/2

teaspoon

salt

1/4

teaspoon

black pepper
for the chili oil-
1/2

cup

olive oil

1-2

dried chili peppers
Instructions:
In a suitable pot on a medium heat warm up a tablespoon of olive oil. Add chopped onions, salt and black pepper, stir and cook while stirring for about 3 minutes, until the onions are softened and golden.

Add the miso paste and 4 cups of water. Stir well until the miso is melted completely in the liquid.

Keep aside for later about 1/4 cup of corn. Add the remaining corn to the pot, stir and bring to a boil. Cook over medium heat for 40 minutes.

During this time, roast the corn we kept aside in a small pan with ½ tablespoon of olive oil for about two minutes while stirring. Keep aside.

Make the chili oil (see notes) – In a small pot, add olive oil and dried chili pepper. Cook on a minimal heat for 20-25 minutes. Minimal heat is required so that the dried chili pepper won't burn or be fried but only allow its flavors to season the oil. Strain if you like (I do).

Blend the prepared soup either using an immersion blender or a regular blender. Before serving, stir in the roasted corn, green onions and cilantro and drizzle over 2-3 tablespoons of the chili oil. Enjoy 🙂
Notes:
Chili oil – as I said, you don't have to make chili oil. You can buy ready made chili oil or use your preferred chili sauce (including Tabasco). It's also possible to use chili flakes instead. If you choose to prepare the chili oil then of course the dried chilies you choose to use will affect the taste of the oil. There are many types of dried chilies. There are the bigger ones, which are usually less spicy – in this case I would use two. There are the little ones that are usually very spicy, and then I would use one. Feel free to use any chili oil that is left for any other stews.