Jump to Recipe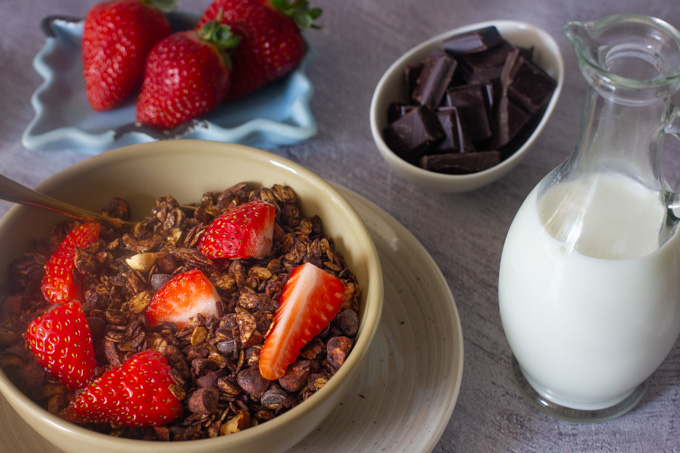 Can you feel it too? That the winter will end soon? Yes yes, I know, winter is not over yet. We still have many days of rain and cold ahead of us, but still, you can see the end. The first hint that winter is at its end I received a few weeks ago at the grocery store. Next to the register were stacked with strawberry boxes and a sign saying "The celebration started! 2 for 25" (at the beginning of winter one strawberry box can easily cost 25 ILS). Boom. Even though on that day there was a mad rain I realized – we're nearing the end of winter.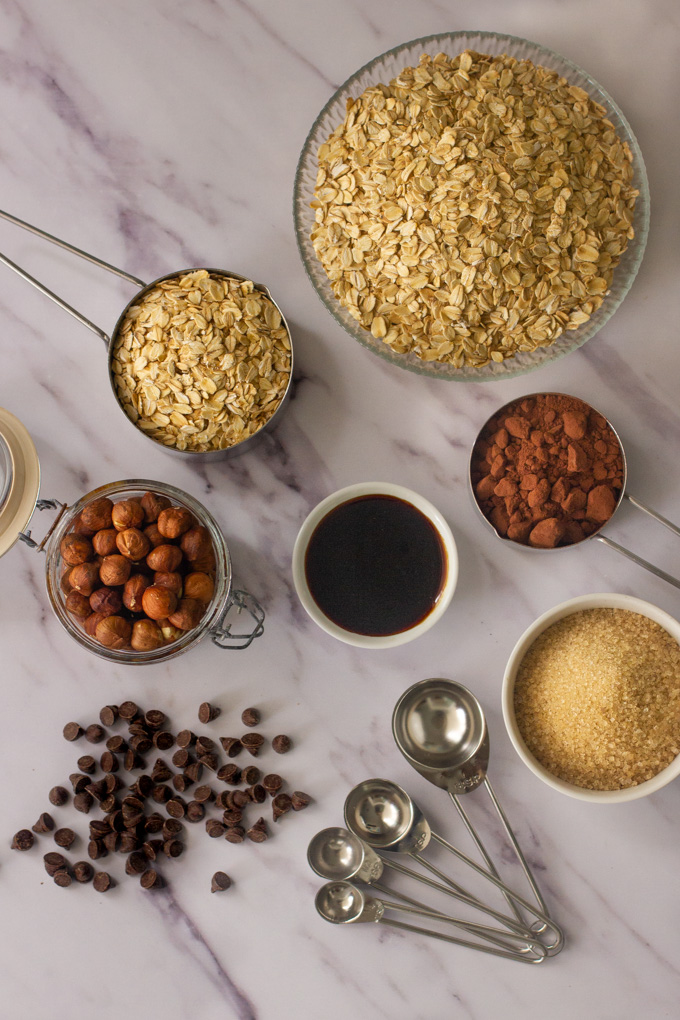 An end is always the beginning of something else, and I love new beginnings (I don't like endings but that's a different subject). The potential at a new beginning is always a bit exciting to me. New season, new year, new week, even a new day. If there are those who go to sleep thinking about what was, I belong to those who think about what will be, and almost always positive. Such a hopeless optimist.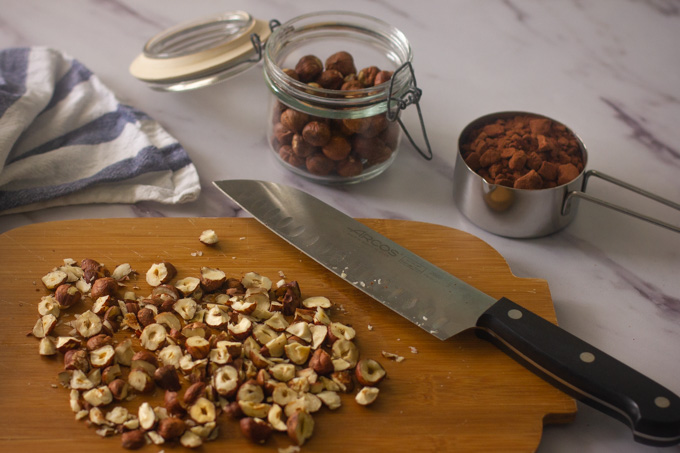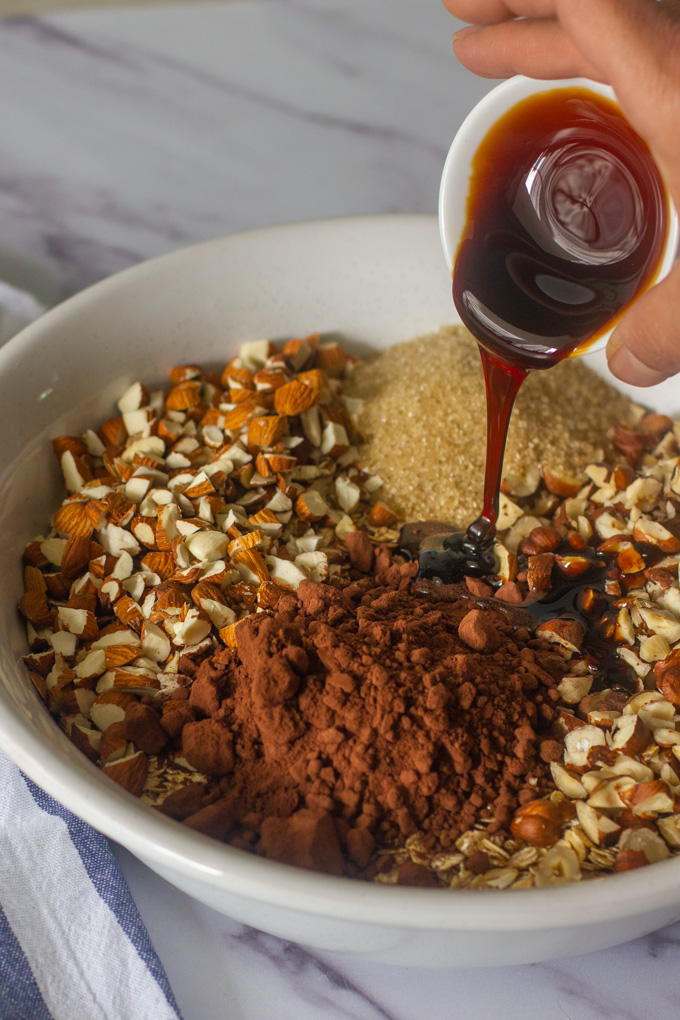 So soon the winter will be over. We're all going to peel off all the layers we've been putting on ourselves all these past months. We'll take off coats and sweaters and boots, and our skin, so covered these days, will feel the sun again. If winter is the time of convergence in ourselves, in our family and friends, then spring and surely summer, it's time to go outside. Both physically and mentally. Our diet will also change. It's already changing. Already we look at all the carbs that have warmed us all winter, all the soups and stews, and realize that this kind of eating is starting to exhaust itself. It's not just a matter of "Prepare your body for summer," it happens naturally, if you listen to the body.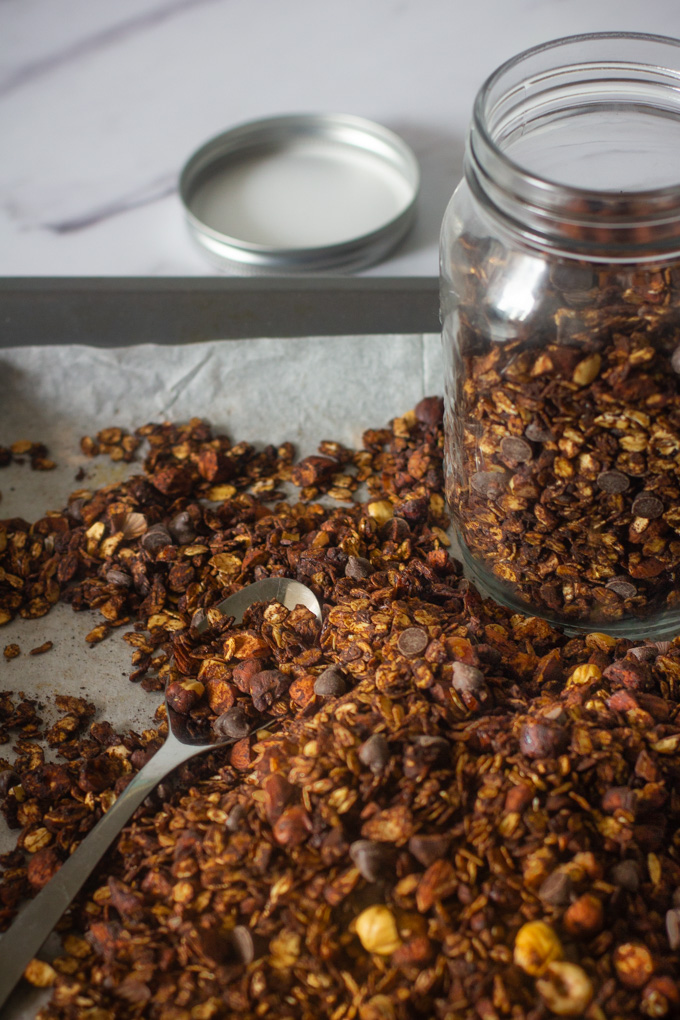 There is something exciting in the changing of the seasons, it's like nature's way to tell us that one period is over, and another time begins, and when the next period is spring then all it's surely involves feelings of renewal, of change. Soon it will be time to open wide all the windows in the house, store all the heavy blankets and let the body absorb a load full of vitamin D from the sun. Not yet, but soon. And about the strawberries? I love strawberries, strawberries that are great, but nothing beats mango.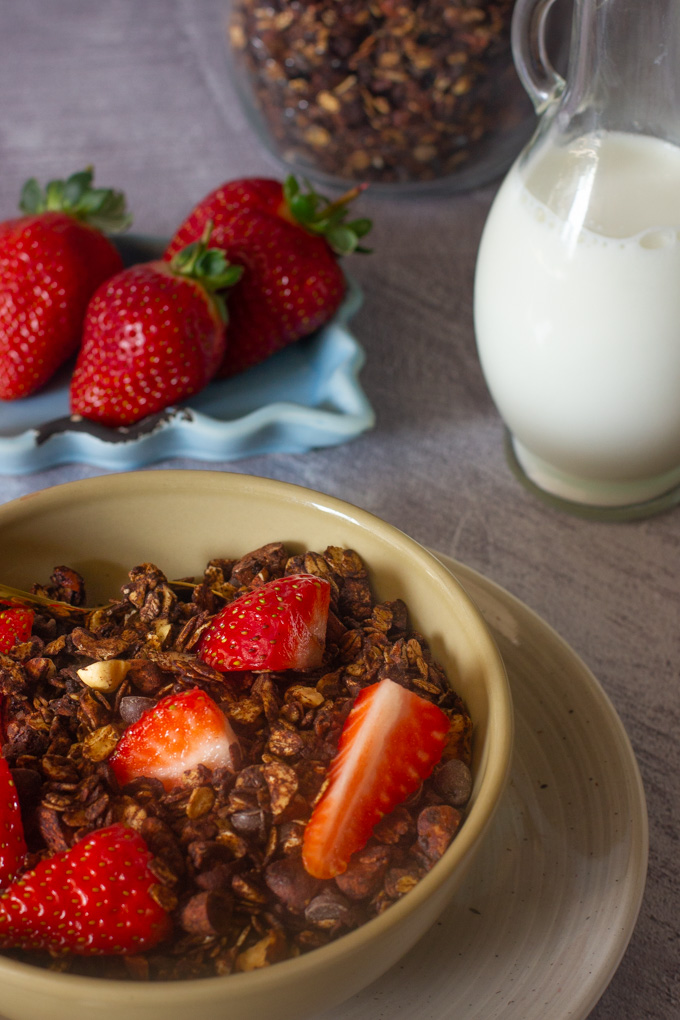 I love granola. It's good for breakfast, for an afternoon snack, it's always fun having a jar of it at your home counter and the easiest thing is to take a bag of granola for work. I usually have a jar of my favorite granola at home (and if you haven't tried it yet, you should!), But sometimes you just want some chocolate… This granola is also a bit like the end of the winter – we are signaling to our bodies that soon the days of warm and comforting dishes will end, but soon, not yet.
An important note – this granola is not sweet. It does have strong flavors of cocoa and hazelnuts. If you are interested in a sweeter granola, you may want to double the amount of sugar.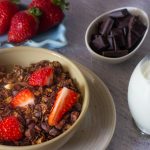 Print Recipe
Cocoa and Hazelnuts Granola
Ingredients:
4

cups

old fashioned oats

1

cup

natural hazelnuts

,

, coarsely chopped

1

cup

natural almonds

,

, coarsely chopped

1/2

cup

cocoa powder

1/4

cup

brown sugar

1/3

cup

of silan (date syrup) or maple

1/4

cup

canola oil (or any other healthy oil)

1/4

cup

water

1

cup

chocolate chips

Pinch

of salt
Instructions:
Preheat the oven to 325°F/160°C.

In a large mixing bowl, place oats, chopped hazelnuts, chopped almonds, cocoa powder, brown sugar and a pinch of salt. Add the wet ingredients: silan or maple, oil and water, and mix well until the mixture is fully and evenly covered.

Spread the mixture over a large baking pan lined with baking paper and bake for about 35 minutes, during which time carefully mix the mixture at least once.

Cool the granola completely. Then, stir in the chocolate chips (or dark chocolate chopped in the same amount).

Keep in a sealed container for at least two weeks.