Jump to Recipe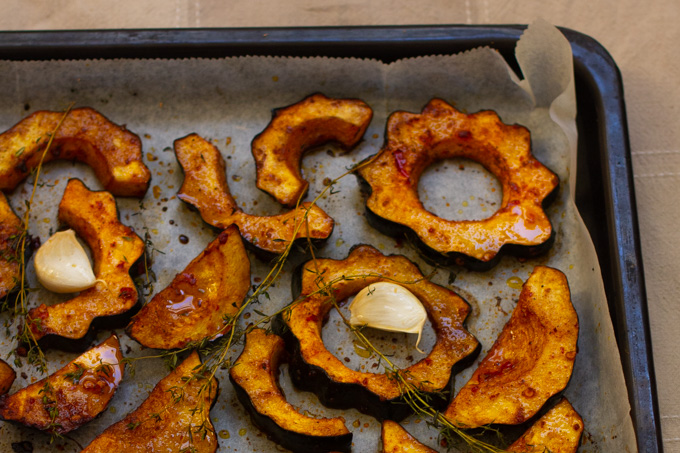 What a crazy life we live here.
I woke up yesterday morning earlier than usual. Not because of any prophetic feeling, Tamar was supposed to go on her class annual trip to Jerusalem so I got up early to arrange all the things she'll need. When I opened my phone and got updated on the mess in the south of Israel (at that point it was only there) my heart started pounding hard. Missiles on the south again. An hour later, it was already clear that there was not going to be any school trip or school day, and in general all other plans made for this day were just irrelevant.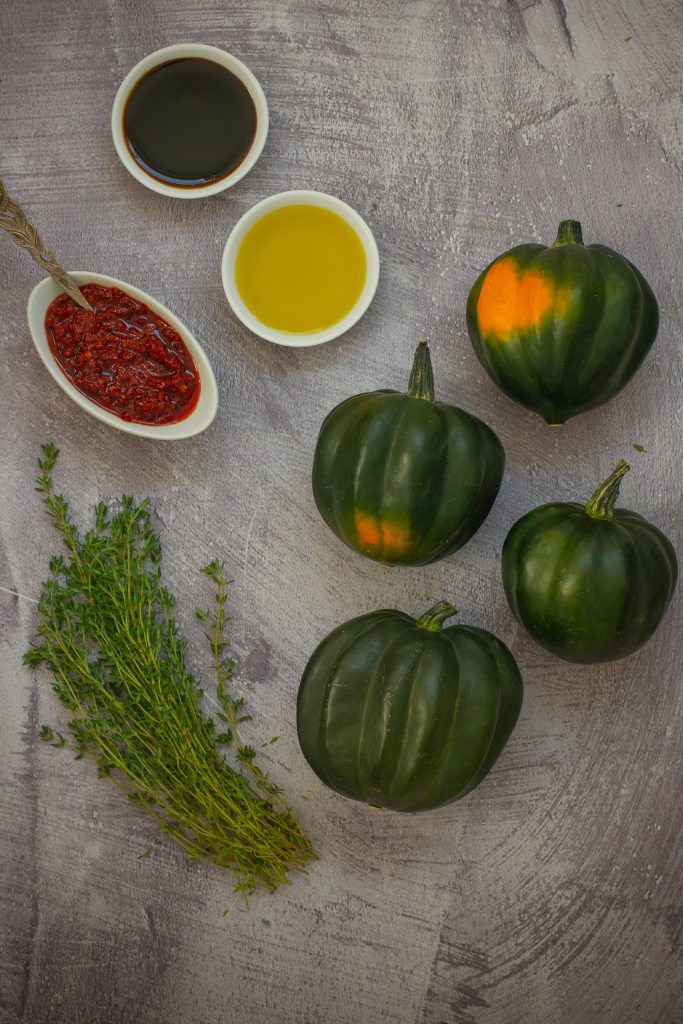 What a crazy reality we live here.
Shifting to automatic mode. I know exactly what to do and how to behave. Not to be too stressed, not to be too relaxed. Ready, primed. One side of the brain plays with the children, the other side makes sure there is some open window to hear what's going on outside, if by chance… telling everyone that "everything is fine" but in my mind I can't avoid so many question marks. Such a surreal life we live sometimes.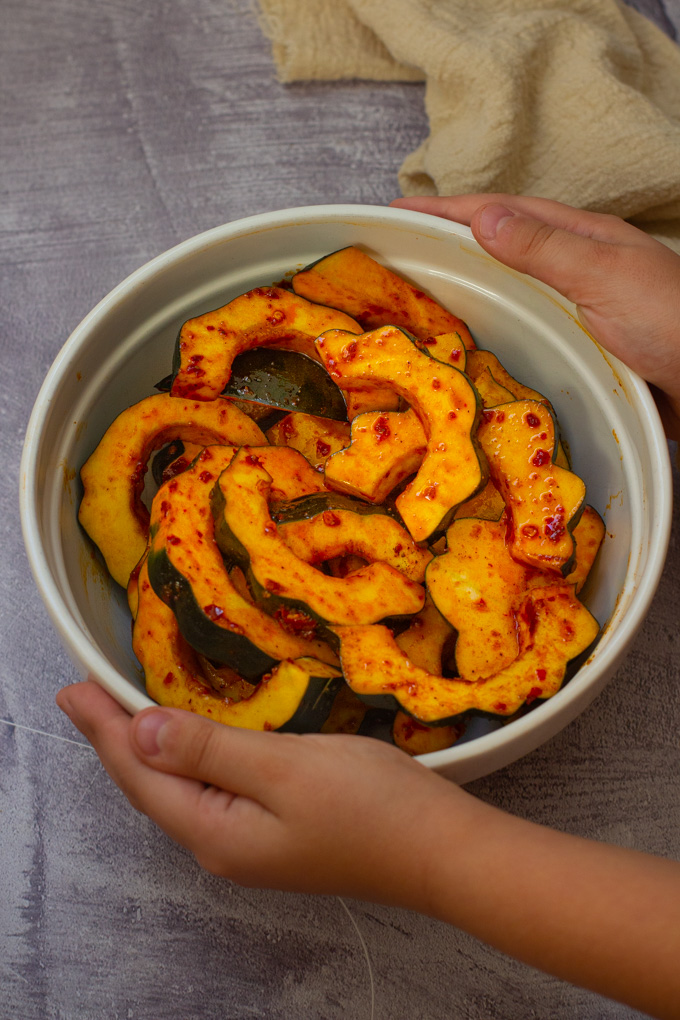 I go into my kitchen. It feels like I have to cook, has to put some normality into everything that's going on outside. Next week we will all forget again that all this has happened, or at least we will try to pretend so. That, too, is part of our life here.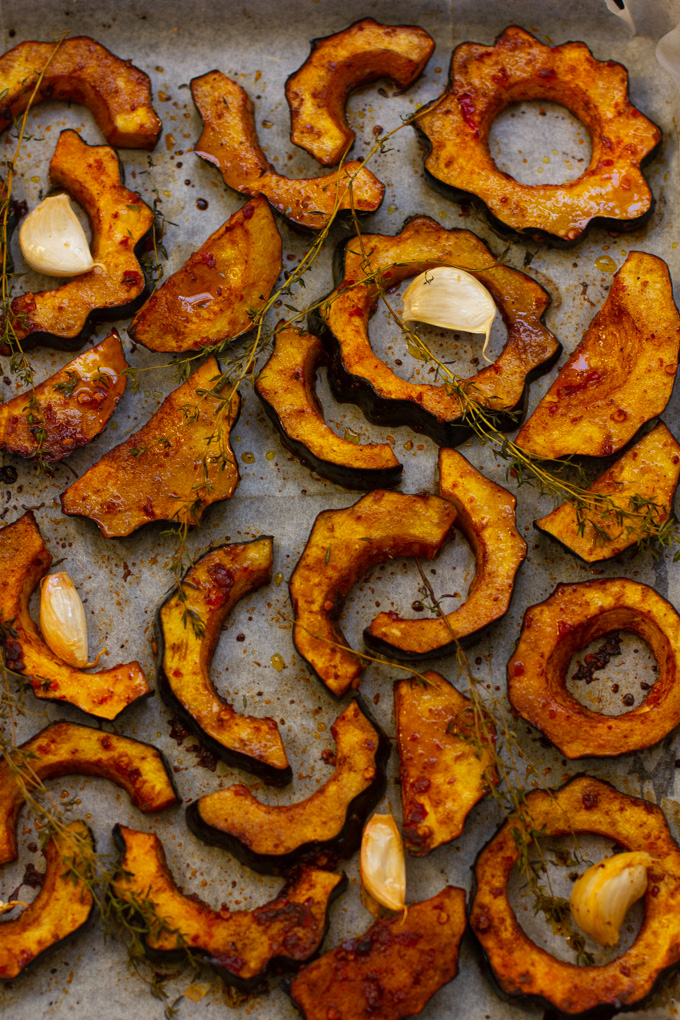 I love squash. any kind. Squashes are so comforting and satisfying. Roasting the acorn squash,which is relatively sweet, along with the sweet date syrup (silan), combined with the spicy harissa, gives a kind of "kick" to the dish and you get this exciting side dish you just can't stop to eat.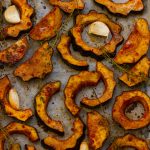 Print Recipe
Baked Acorn Squash with Harissa and Date Honey (Silan)
Ingredients:
4

units

acorn squash

2

tablespoons

Silan (date honey syrup)

,

natural

1

tablespoon

harissa – I always use spicy harissa

1

tablespoon

olive oil

6-8

sprigs of fresh thyme

1/2

teaspoon

salt

1/4

teaspoon

black pepper
Instructions:
Preheat the oven to 350°F/180°C and prepare a large oven tray lined with baking paper or silicone roasting mat.

Slice the acorn squashes horizontally into slices about ½-inch/ 1-cm thick. Using a spoon, remove the acorn seeds from the center of the slices.

In a mixing bowl, put silan (date syrup), harissa, olive oil, salt and pepper, and mix to combine. Pour the mixture over the acorn squash slices and mix so that all the slices are evenly coated.

Spread the acorn squash slices in a single-layer over your baking sheet/mat. Sprinkle over thyme branches and bake in the oven for 20-25 minutes, until the acorn squash is golden and soft.