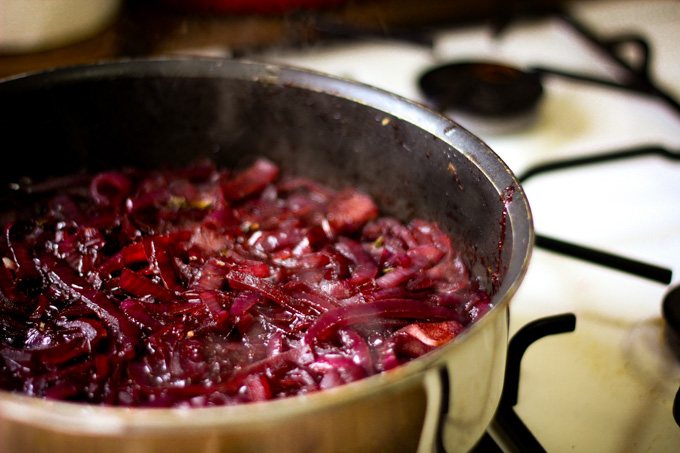 It happened at the grocery store, next to the onion stand. Out of nowhere, a tear came down on her cheek. She got startled a bit, since she didn't quite understand where this tear came from, but before she could figure it out, she felt another one, and this time it was joined with a kind of pain in her throat. a choking. Immediately, almost out of instinct, she put her sunglasses on. She thought it's better people think she is weird rather than sad.
The next day she was on her way back from work and it happened again. More tears, and again a choking feeling in her throat. Then it happened while she hung up the laundry, and then when she folded the laundry. Then it happened while she was on the phone with her mom, and when she was walking her dog, and when she put her kids coat on. Before she could understand why it was happening, tears appeared almost at any moment of the day, and always without a warning.
It was clear to her that the tears were coming from a real place of sadness. But sadness about what? And more importantly, she thought, how can she make those tears go away?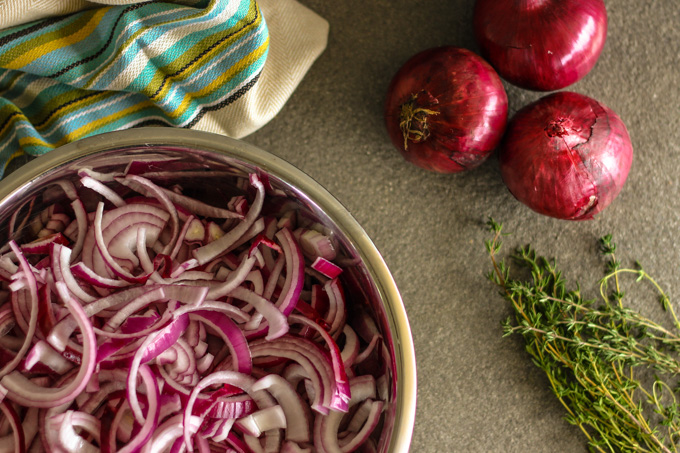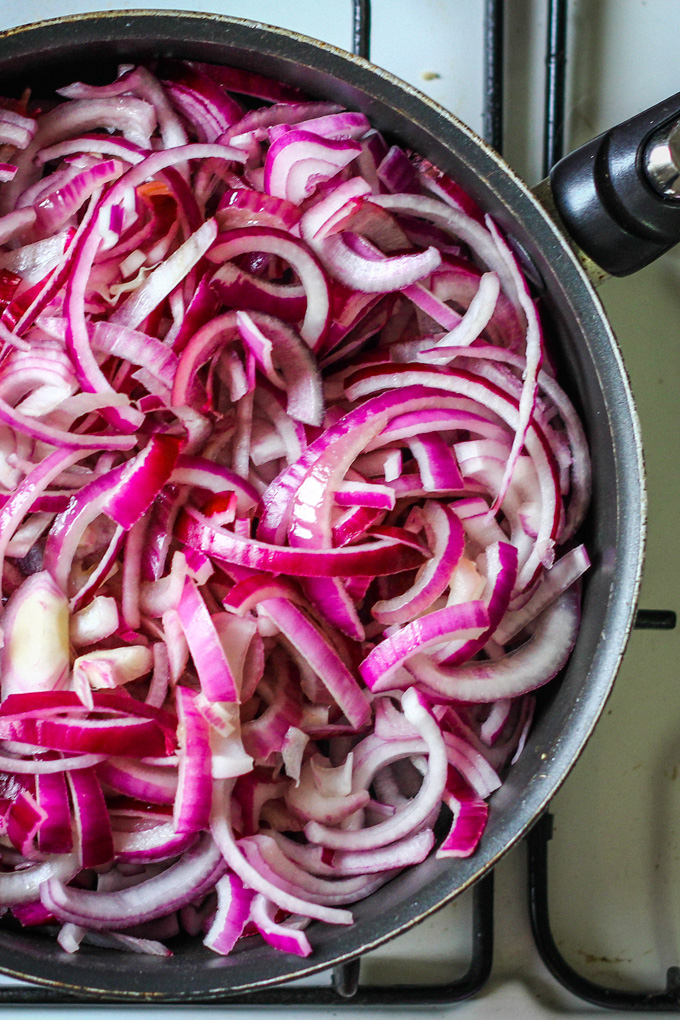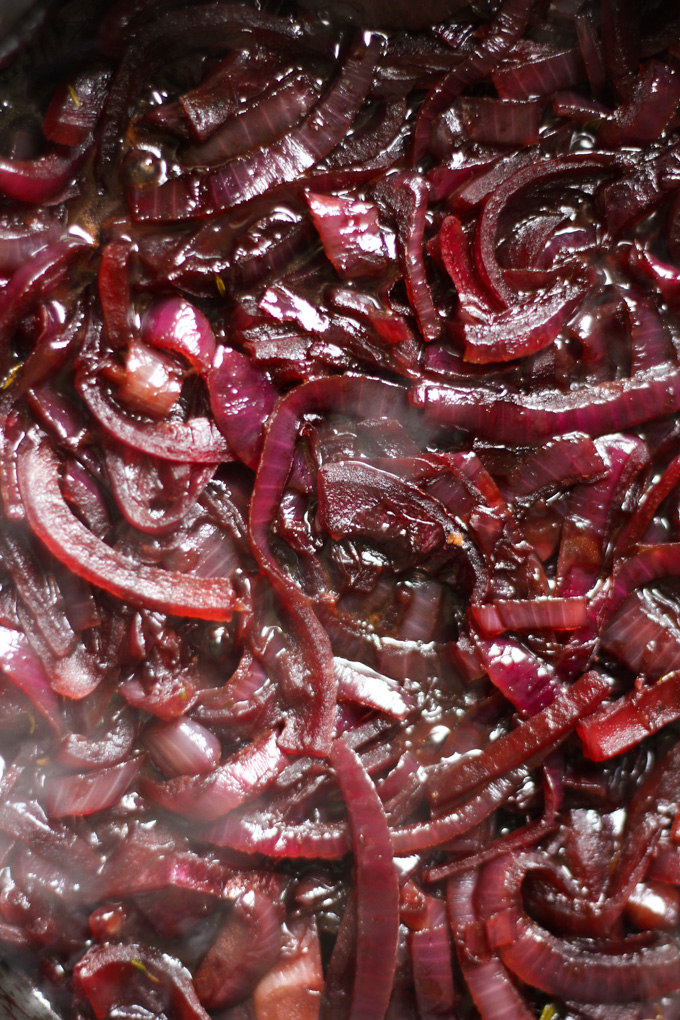 She thought about not sleeping enough, about working too hard. She thought about not doing what she thought she was supposed to do. She thought about being by herself a lot, much more than she would've liked, she thought of the love that hurt her once so much, the friends she neglected, the routine life and the emptiness it brings. She thought of many things that were really very sad, but she didn't quite know if they were the reason the tears came down.
One day there was a knock at the door. She looked at the peephole and didn't see anyone. She opened the door and saw a sack of onions lay on the floor. She thought it was very odd that someone left her a sack of onions by the door, and a bit scary too, but she took it in because it was only a bag of onions. She looked at the bag for a few minutes and didn't know what to do with it, but she felt she had to do something with it. She took a knife from the drawer and began peeling one onion. And then she peeled another onion. And another one. Until she peeled off all of the onions in the sack so that she had a large pile of peeled onions on her kitchen counter. She felt she hasn't finished, so she began to cut the onions. First one length cut then strips across. Slicing the onions brought tears to her eyes. many tears. burning tears. The more onions she sliced, the more tears came down her eyes. But this time there wasn't a sore throat. No choking. When she finished cutting all the onions, and looked at the pile of onion strips on the counter, she noticed that so many tears dripped down, that they wet her shirt, and there was even a little puddle of tears on the counter, but because she knew onions were supposed to shed tears, she wasn't scared. Instead, she smiled.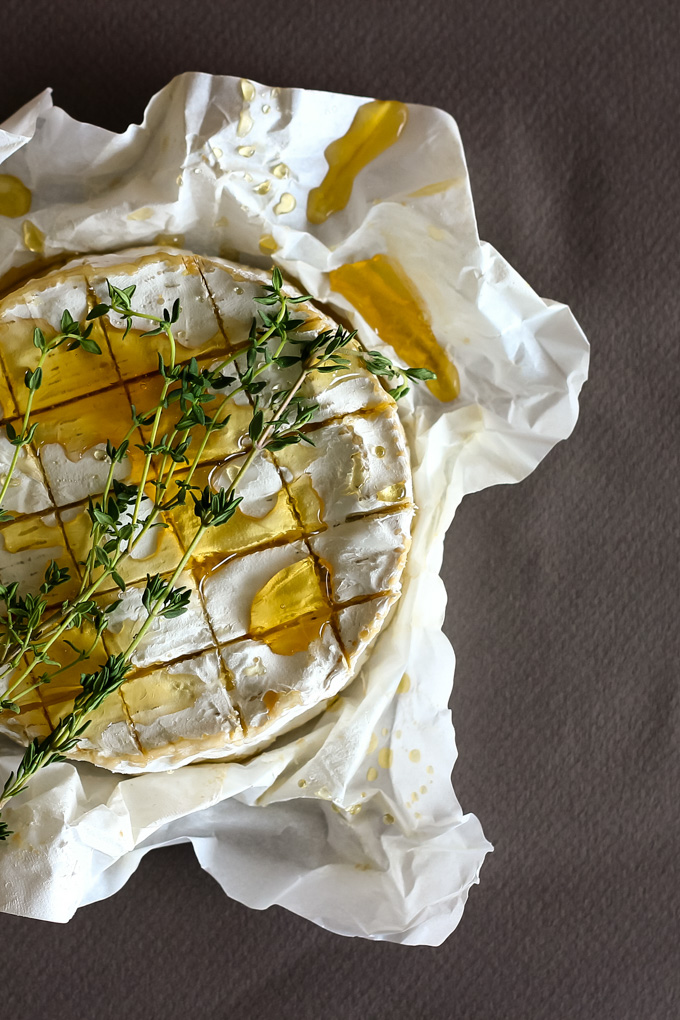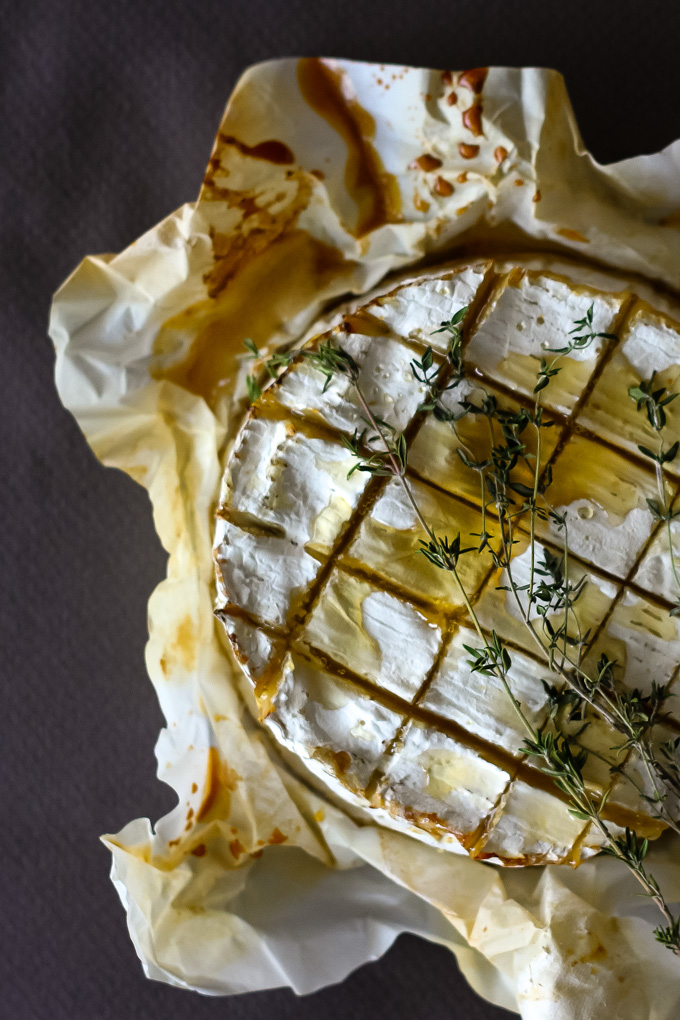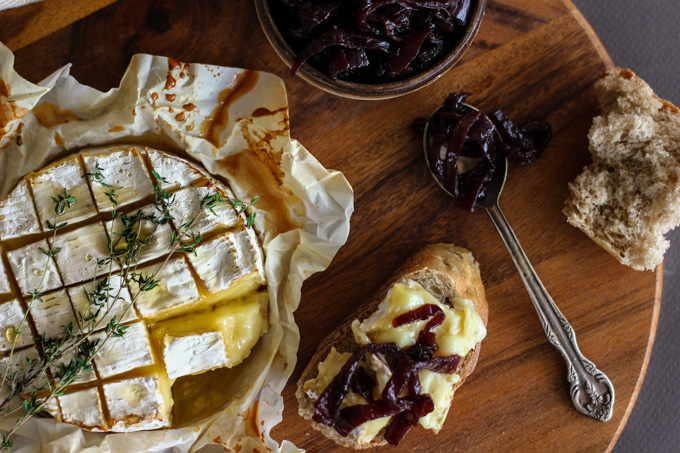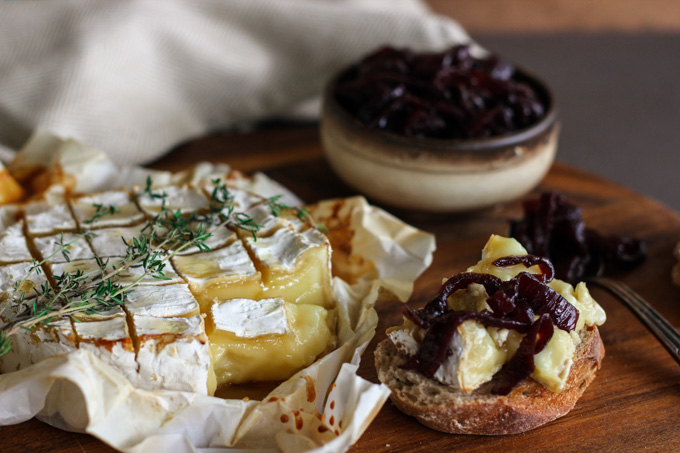 Baked Camembert Cheese with Onion Jam
Onion jam

for 2 cups
Ingredients:
2 tablespoons olive oil
4 large red onions (about kg/2 lbs), thinly sliced
3/4 cup cane sugar
1 cup red wine
2 tablespoons balsamic vinegar
7-8 thyme springs, leaves picked (about 1½ tablespoons)
1 teaspoon salt
freshly ground black pepper, to taste
Instructions:
1. In a large sauté pan heat the olive oil for a minute over medium heat. Add the onions and salt and cook for about 10 minutes, until translucent. make sure to stir occasionally.
2. Add sugar, red wine, balsamic vinegar and thyme. Stir and bring to a boil.
3. Reduce to low heat and let the mixture simmer until the jam becomes thick and almost all of the liquid is absorbed- about an hour. Mix occasionally.
4. Take off the heat and add freshly ground black pepper. Chill, and store in the fridge in an airtight container for up to 2 weeks (even longer if you are strict and use only sterilized jars and clean silverware).
Baked Camembert cheese
Ingredients:
1 pack of Camembert cheese, in its box (250gr/9oz)
1 tablespoon honey
4 thyme springs
Instructions:
1. Preheat the oven to 180°C/350°F.
2. Remove the Camembert from its plastic wrap and place it in its box again (if the Camembert box is not suitable for the oven, place in in a ring or other suitable baking pot).
3. Score the top of the Camembert in a crosshatch pattern. Drizzle the honey on top, and place the thyme springs above.
4. Bake for 15 minutes, until the Camembert is golden and melted in the middle.
Serve with good bread and the onion jam of course. High level indulgence..