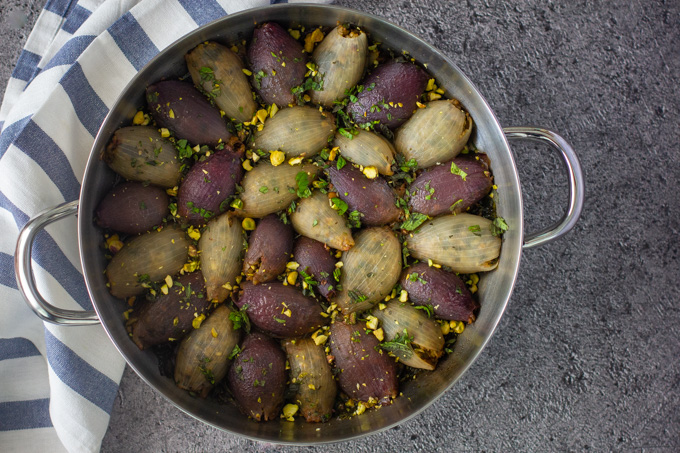 When I feel like having a salad that feels like home
a salad like from the old times
I take half of a regular onion,
greenhouse regular tomato
and a peeled cucumber.
I slice the vegetables with a regular knife
and season it with canola oil, a good squeeze of lemon and salt.
True, salad is tastier with olive oil. And cherry tomatoes. Or perhaps some vinegar. And on ordinary days my salads look completely different. But there's something about this kind of salad, the old days salad, that throws me back to those times and brings up so many feelings, so it really doesn't matter which salad tastes better, because at that moment, the salad that came from the old times – it tastes better.
Food is amazing in that perspective.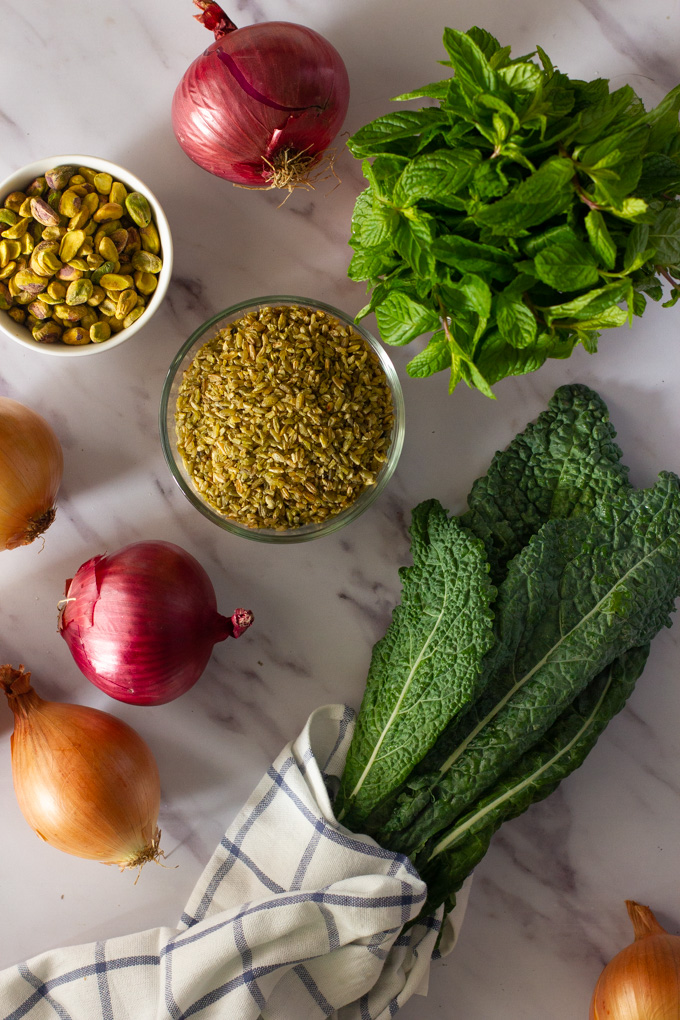 There are many examples and even studies that show that. One of my favorite examples is a 2004 study that compares people's preference between Coca-Cola and Pepsi. The experiment had two stages – in the first stage they did a blind taste test between the two brands, where they found that half preferred the taste of Pepsi and half the taste of Coca-Cola. In the second stage, people knew what brand they were drinking, and in this test Coca-Cola won indisputably. The study also showed that this preference didn't just came out of previous assumptions to those brands, it showed that when people tasted Coca-Cola different parts in their brain, parts that don't relate directly to taste, were stimulated (for example, parts that associate with memories) and the end result was that people actually enjoyed more to drink Coca-Cola, for them it tasted better.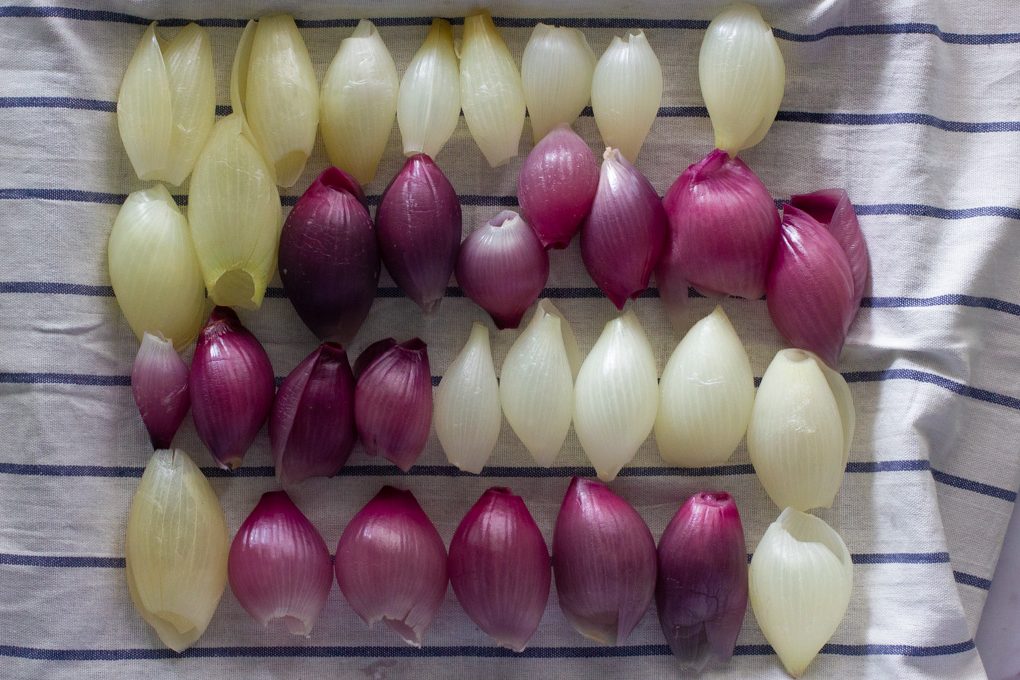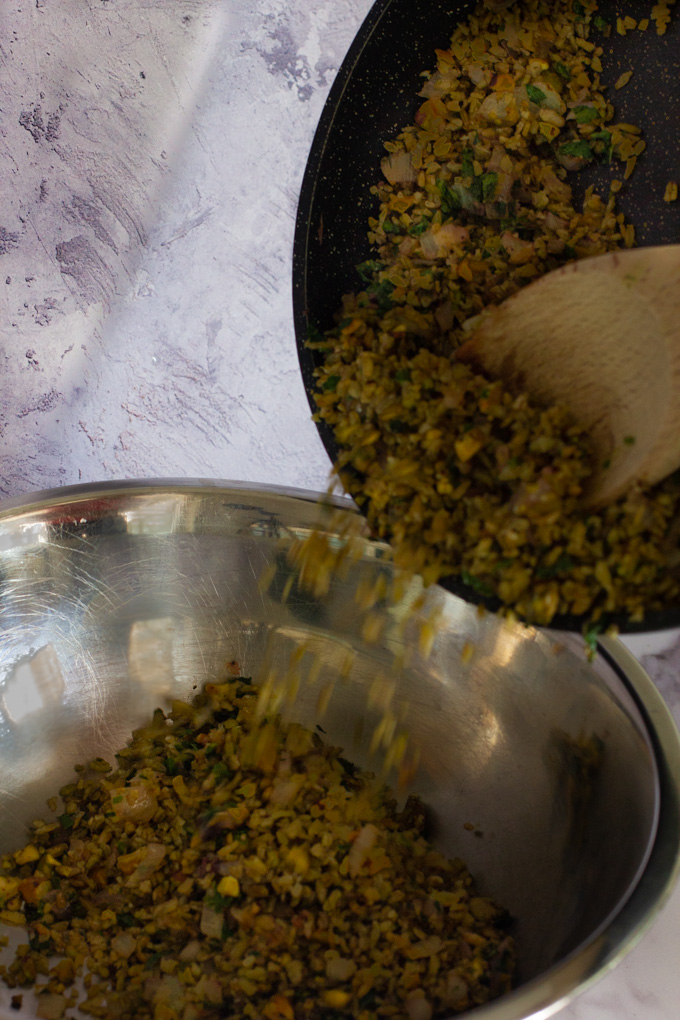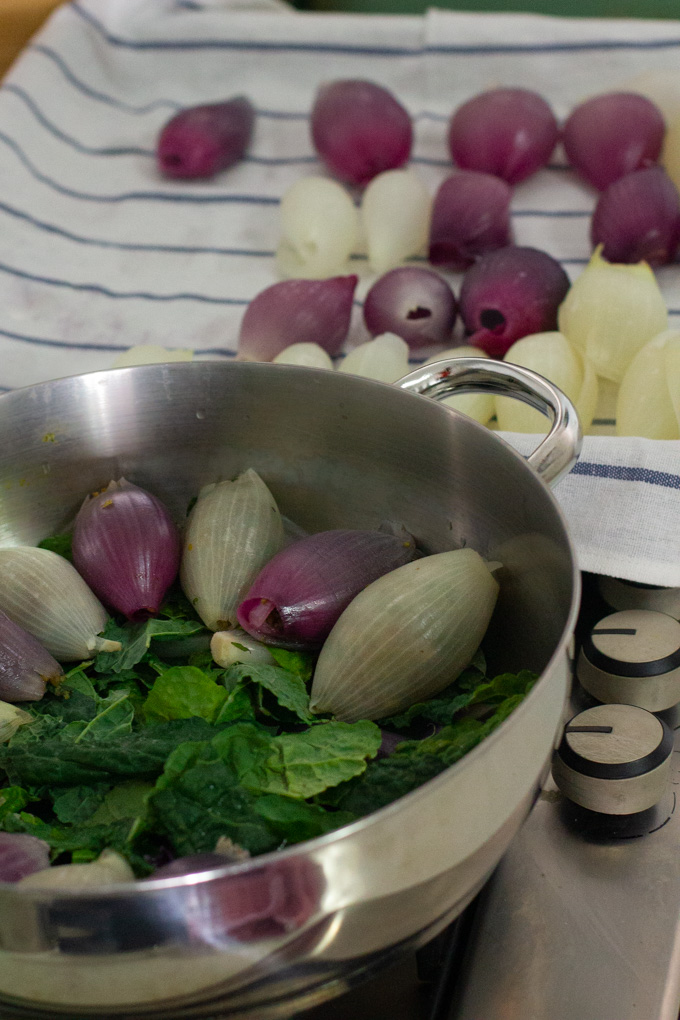 The pleasure from food, in a charming way, is not just about the taste of it, but about many other things. What a magic. Tamar bragged one time, to quite a few people if I might add, that "my mom makes the best store bought corn schnitzel in the world." I honestly didn't know how to react.. all the cooking and baking I do in the kitchen and she takes pride on the store-bought corn schnitzel I make for her… but thinking about it, aside from my toaster oven skills (…), I would like to believe that my corn schnitzel is more delicious than any other corn schnitzel that she ate just because I, her mother, made it for her, with all the meanings that goes with mama's food.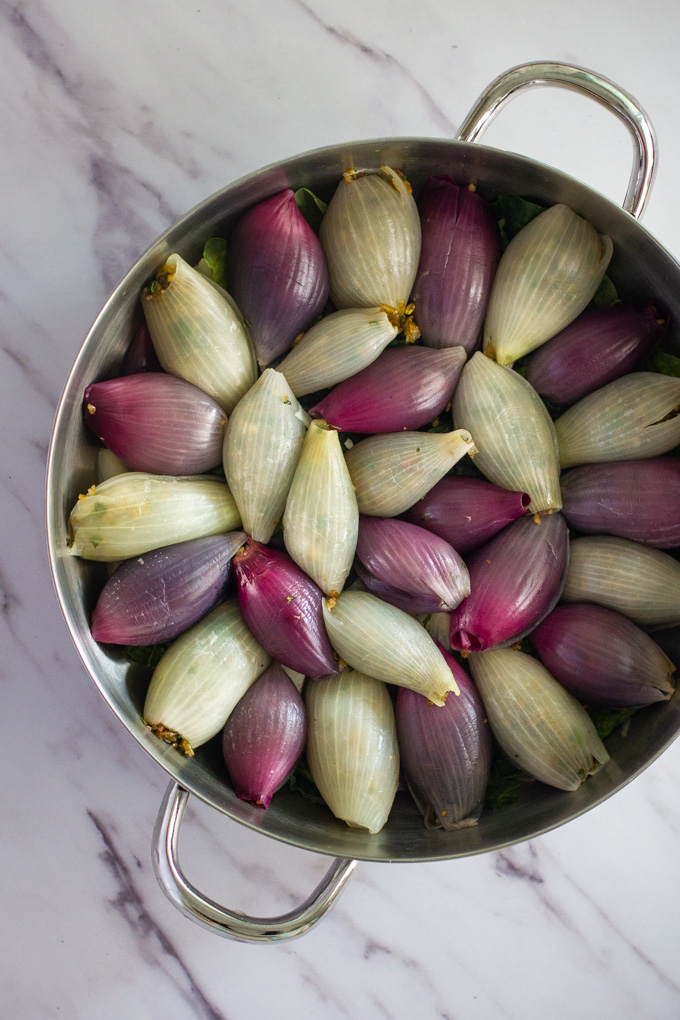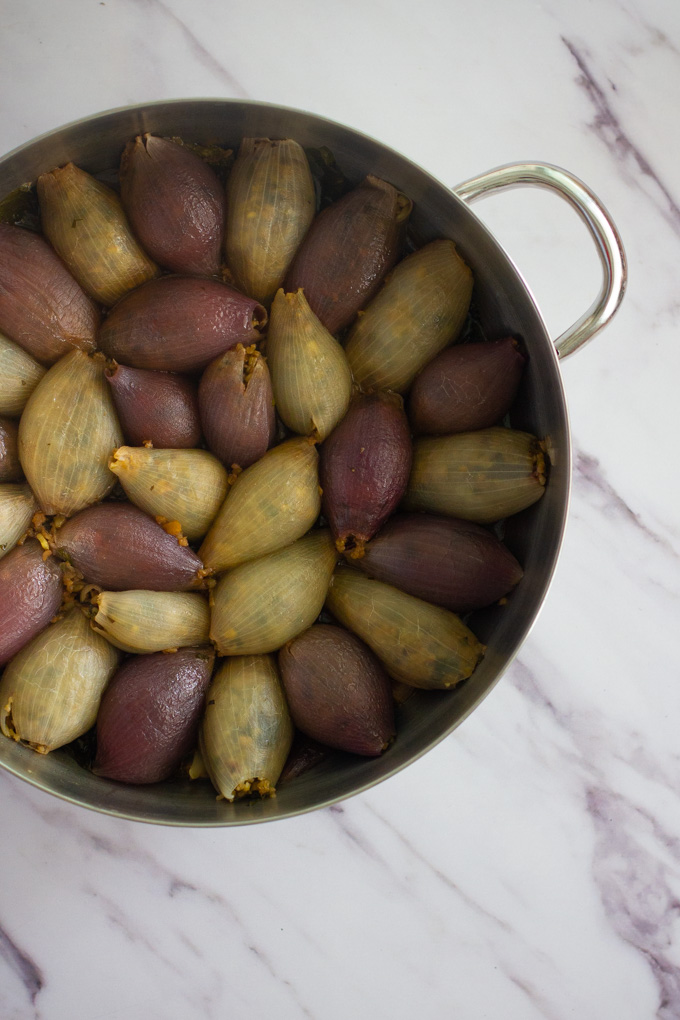 My mom never made me store-bought corn schnitzels, I don't know if store-bought corn schnitzels even existed when I was a child and it doesn't matter. My mom never made us any store-bought food. She always cooked. The feelings that come up in me when I see bunch of cooking pots gathered on the stove are far beyond what's in those pots. Because for me, cooking pots are like a huge hug, one that tries to bring into it both love and understanding, and fills me with energies that stay with me for a long time, long after the actual hug is over.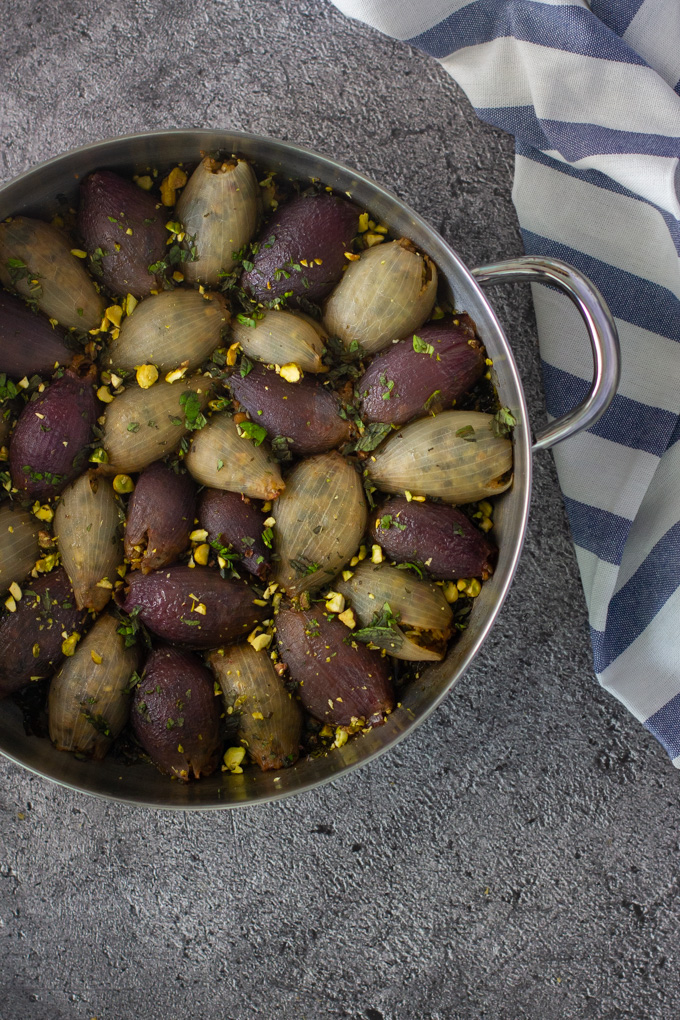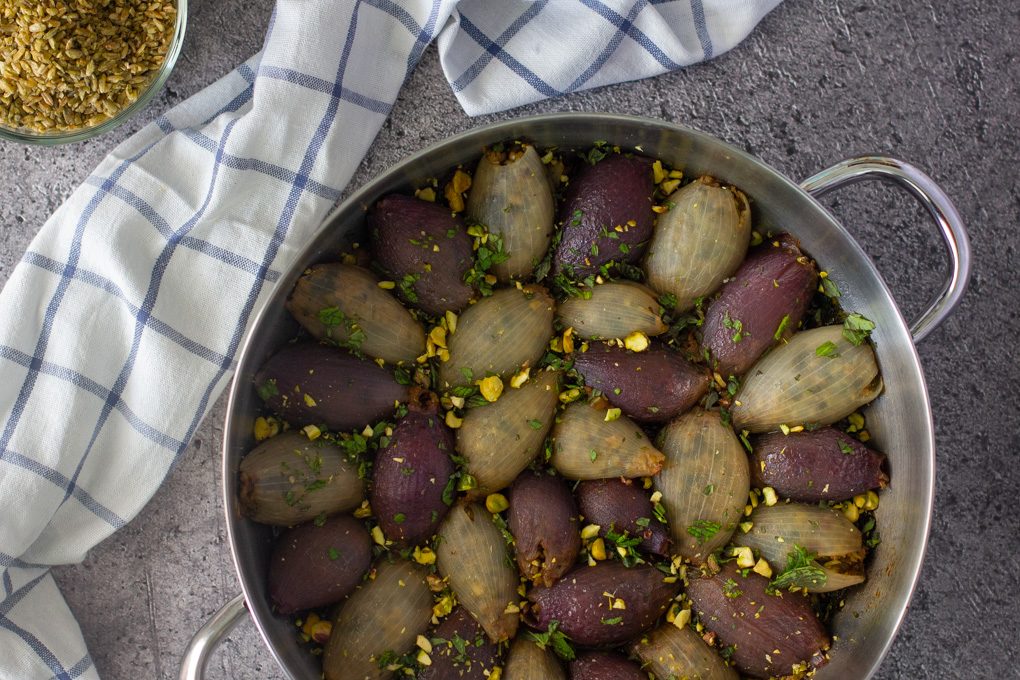 This post is a special treat. Onions stuffed with freekeh (freekeh is wheat that was harvested green and then was smoked or roasted) and kale, along with pistachios, silan (date syrup) and mint. A special and beautiful cooking pot, excellent for special occasions, but not only. The sweetness of the caramelized onions, along with the silan, against the earthy taste of the freekeh, creates a celebration of deep flavors in the palate. The making of this dish is a bit of a process, from the brewing of the onions, peeling their layers, and of course stuffing one by one with the freekeh mixture, but I swear all this hard work pays off.
Stuffed Onions with Freekeh and Kale

serves 8 generously
Ingredients:
3 large regular (yellow) onions
3 large red onions
1 medium onion, finely sliced
1½ cups freekeh, washed well and drained
1 bunch of kale, without the stems
1/2 cup natural pistachios, coarsely chopped
1 cup fresh mint, chopped
3 tablespoons silan (date syrup)
1 teaspoon sumac
1/2 teaspoon cumin
3 tablespoons olive oil
2 cups water
1 teaspoon salt
1/2 teaspoon freshly ground black pepper
plus- some finely chopped pistachio and mint for garnish
Instructions:
1. Prepare the onions for stuffing- peel 3 regular onions and 3 red onions, and with a knife make a deep from to to root along the onions to their center, be careful not to slice the onions in half. Place the onions in a suitable pot and fill boiling water to cover. Cook for about 20 minutes, until the onions are soft and you can see the onion layers begin to separate. Drain the water and let the onions cool off. While brewing the onions, you can start to prepare the mixture for the stuffing.
2. Prepare the stuffing- in a medium skillet, heat one tablespoon of olive oil and add in a medium onion, finely chopped, cook until the onions are transparent. Chop about 6 kale leaves, without the stems (about a cup) and add to the skillet. Season with salt, black pepper, sumac and cumin and stir. Add the chopped pistachios and the freekeh, and continue frying while mixing for another minute. Transfer the mixture to a large bowl and let cool. After cooling, add 1 cup of chopped mint, 2 tablespoons of silan and 1 tablespoon of olive oil, and mix well.
3. Separating the onion layers – After the onions have cooled, slowly and carefully peel and separate the onion layers, starting from the outer layers in, so that the onion layers are ready to be filled. Stop separating when reaching the center of the onions and the onion skins will look too small for filling. Don't throw the remaining onions, we will use them later.
4. Take a large and deep sauté pan, which can also be placed in the oven, and spread in it the remaining onions and the rest of the kale leaves. Fill each leaf of onion with a tablespoonful of the mixture, roll the onion peel around the filling firm but not too tightly, and place in the padded pan seam-side down. In that way, fill the rest of the onions and place them relatively densely. Mix separately 2 cups of water with a tablespoon of olive oil and a tablespoon of silan, and pour the liquids on the stuffed onions. The liquids should cover the onions.
5. On medium heat, bring the liquid to a boil. After boiling, cover the pot and reduce the heat to minimum. Cook for an hour. Before the hour is over, preheat the oven to 400°F/200°C. After an hour, remove the lid from the pan and place the pan in the oven for another 10 minutes.
6. Before serving, sprinkle with pistachios and finely chopped mint. Serve with love (and pride!)